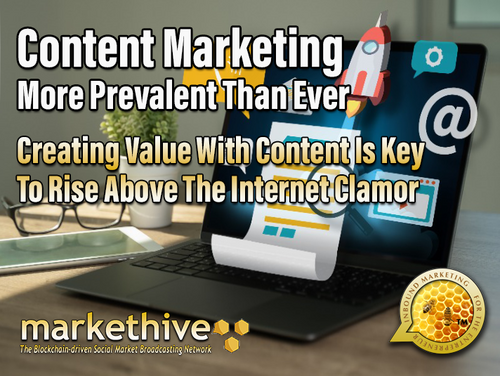 Content Marketing More Prevalent Than Ever. Creating Value With Content Is Key To Rise Above Internet Clamor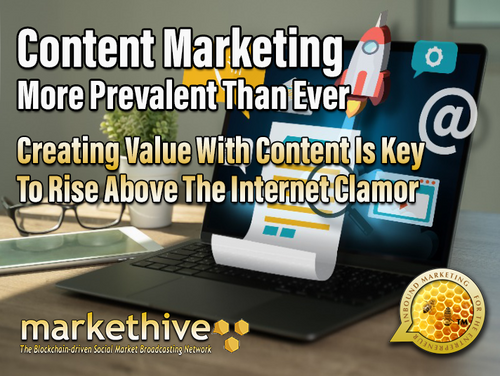 Given the life-changing events over the past three years, we've entered 2023 much wiser and more enlightened. The global population has experienced a technocratic tyranny never seen before, and never before has critical information been so readily available to everyone that brings truth, putting the spotlight on the evil doers of the world, historically and empirically.
Thanks to the internet and the proliferation of media circumventing the cancel culture, many topics have come to light through content creation. One thing is for sure, the online world has expanded, and for many, it's the only option to stay in touch with their loved ones and community, bringing a sense of cohesion and strength to the stricken.
It's also the best option to facilitate their business to derive income, and companies of all sizes and niches are taking notice. Life goes on no matter what, and we must focus on staying afloat in this crazy world. The latest message is "get the word out," and content creation, aggregation, or content curation is the best way to do that. If you're running a business, content marketing is crucial.
According to the latest research, 7.5 million blog posts are published daily, with around 600 million blogs hosted on WordPress, Tumblr, and Google's Blogger. Moreover, blogging is considered a popular content marketing strategy, with 81% of consumers trusting the information in blogs. Data also shows 61% of online consumers in the US have purchased products based on recommendations from a blog.
It's also reported that 75% of people never scroll past the first page of search results, and 80% ignore Google ads. With 82% of marketers reported to be actively using content marketing in 2021 (an increase of 70% from the previous year), the question is, how can you get your content to rise above the noise?

The usual scenario involves finding 'How To' manuals and trying to find 'hacks' or 'shortcuts' that will get your content noticed. A content creator's post, video, or meme goes viral, and tons of copycats appear for the next few months. They never do better than the original.

For example, the original Old Spice campaign video resulted in over 55 million Youtube views and was copied thousands of times. Sesame Street was one of the copycats, resulting in five times fewer views than the original.

So if Sesame Street, with multi-millions of dollars for the best production resources, can't come close to topping the original video, how will you and your small business do it? There are better ways to produce content than copying. Below are five tips on delivering real value in your content.
The WIIFM Formula
A marketing acronym that's been around for years is WIIFM which means, "What's in it for me?" but we turn the formula over. Your content must focus on 'What's in it for THEM, not YOU. (WIIFT) That's when people will read your content.
Too often, entrepreneurs write self-serving content. It's like going into a pub and shouting out how great you are, your latest accomplishment, and all the reasons you are God's gift to the world. But that is what many brands do when they only write about themselves and how excellent their products are on social media and their blog.
It is better to put yourself in your target customer's shoes, focus on what they need and care about, and then write content that addresses that.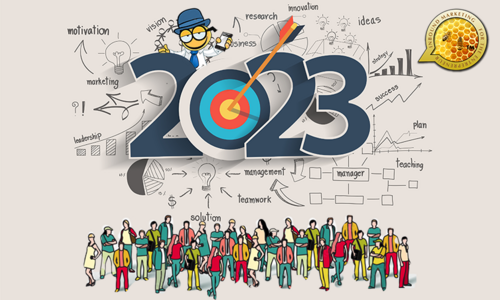 Image source: Markethive.com
Know Your Target Market
To create WIIFT content, you must understand your target customers. Building customer personas will help with this. The main characteristics of a buyer persona that need to be identified are as follows:
Their location(s)?

Their values?

Their key demographics (job title, age range, etc.)?

The sort of content they are consuming currently?

Their pain points?

How will your offer resolve those pain points?
This blog will help you create a detailed buyer persona to ensure your marketing campaign is streamlined and customer-focused.



Show Real Expertise
One of the main reasons your content may not be resonating is when you are producing mirage content. Content that replicates what everyone else in your field is putting out. In most cases, this happens when the person writing the blog post has yet to gain real expertise in doing what they are writing.

If you sell race car parts, your website's blog posts should be written by someone that knows about race cars (Perhaps they build the cars and race them on the weekend?) It's not a good idea to have some junior copywriter you hired paraphrase a bunch of content they saw from a basic Google search.
The development of expertise takes time. Either you or whoever writes your content has to:
Do a lot of reading and researching.

Ask a lot of questions.

Invest time doing the thing that is being written.

Be willing to experiment.

Fail often.
You will need to find a way to resolve any lack of expertise in your subject matter. You could hire or interview writers who are subject matter experts. Or you could invest the time to become an expert yourself.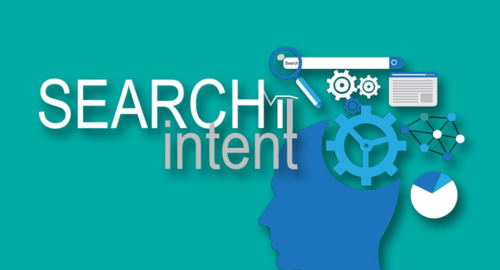 Image source: Motocms.com
Be Focused on Customer Intent, not Traffic Volume.
Many companies go after the 'Top of the Funnel' (TOFU) keywords. These have tons of search volume and organic traffic but are less likely to convert sales. Additionally, these keywords are probably going to be competitive. It will be highly challenging and costly to rank on page one of Google.

The opposite approach converts much better. Begin with 'Bottom of the Funnel' (BOFU) long-tail keywords. They may have just a fraction of the traffic but are much easier to rank for, and the chances of them converting to customers are much more significant.
For example, the most popular post on Hubspot's site is "how to make an animated gif." How many of those people are looking for complex CRM or marketing automation software? Probably not very many.

You will find Long-tail keywords to target using SEO tools like Ahrefs or SEMRush.

Also, some excellent keyword research tools are completely free and include:
Reddit

Quora

Pinterest

Youtube

Twitter

Amazon
Additionally, social media can reveal how your target customers feel and talk about your product and your competitor's products. This will let you get ideas on what content to write next and how to present it in a way most likely to resonate with them.
Don't Try to Go Viral.
When you try to go viral, you are taking part in the marketing equivalent of purchasing lotto tickets. You are basing your strategy on something out of your control, can't be repeated, and most likely will not happen.

For example, if you sell garden shovels and rakes, the chances of your video about the best fertilizer to use in your tulip garden going viral will probably be low.
The problem with "viral content" is that you are looking for a one-hit-wonder. If you were to get lucky and one of your videos takes off, the odds of it leading to a ton of sales and being repeatable over and over are very low.

A more proven strategy is to regularly create 'How-To Videos' week after week, showing your company's expertise and helping your target customers solve real problems. These videos may only result in a few hundred views each, but they build your reputation and solve a real problem for your target customers.
As an example, Minaal produces carry-on luggage for minimalist travelers. They aren't focused on delivering viral pranks. Instead, they do an excellent job of making how-to videos related to packing light.
Below is a video presented by Thomas Prendergast, the CEO, and Marketing Director of Markethive, with some fundamental technical steps for creating a blog, specifically on the Markethive platform.
Where Do You Start?
If you are just starting, check out this detailed beginner guide. It outlines how to start blogging in five easy steps. When you are ready to start your blog, Markethive is your next step. You can utilize the most comprehensive broadcasting platform with blogging tools, email auto-responders, etc., all under one umbrella, along with a built-in meritocratic community of entrepreneurs.
With Markethive's internal wallet activation imminent, the new dashboard integration with its multiple newsfeed interface is currently in development. This unprecedented concept is unique to Markethive and integral to the objectives of the content marketer/entrepreneur in broadening reach and building their sphere of influence. Be sure to stay tuned for updates and implementations going forward.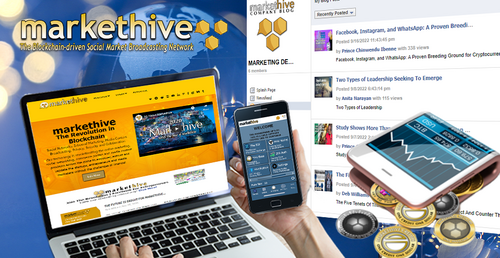 Image source: Markethive.com
So apart from the conceptual technology integration of intuitive tools fundamental to disseminating information of any content marketing strategy, you need to create content that delivers real value and invest time in understanding your target market. It will require learning about your target customers, talking to them, and practicing humility and empathy.
Moreover, creating quality content takes time and effort but will pay off in the long run. Make sure your content is well-written and contains accurate information. Using visuals such as images or videos can enhance the value of your content. Whatever your approach, make sure you keep your content interesting and relevant to your audience. If you do this, you'll be well on your way to success in the world of content marketing.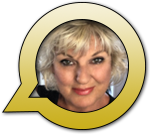 Editor and Chief Markethive:
Deb Williams
. (Australia) I thrive on progress and champion freedom of speech. I embrace "Change" with a passion, and my purpose in life is to enlighten people to accept and move forward with enthusiasm. Find me at my
Markethive Profile Page
| My
Twitter Account
| and my
LinkedIn Profile.
Adapted from Markethive's original article
Bruce Jacobs
Visits: 1958 Visits: 6