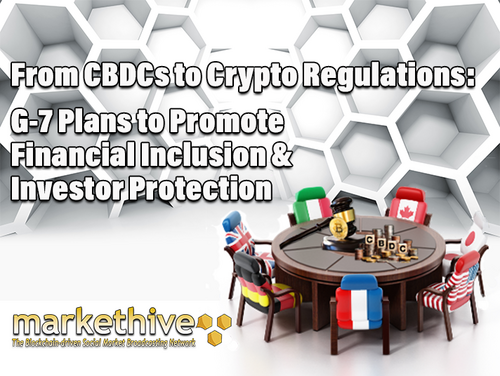 From CBDCs to Cryptocurrency Regulations: G-7 Plans to Promote Financial Inclusion and Investor Protection.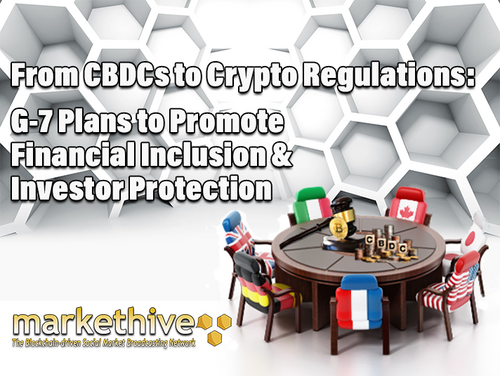 A closer assessment of the global events on cryptocurrencies today shows a trend toward more regulation and maturity. Many countries see the potential advantages of blockchain technology across many industries. The regulatory environment surrounding cryptocurrencies and blockchain technology is continuously changing as those sectors of the economy continue to develop and find widespread use.
The Group of Seven (G-7) meeting this year will be presided over by Japan to prioritize cryptocurrency regulations. Politicians perceive a greater need to control crypto assets in light of the bankruptcy of the cryptocurrency exchange FTX last year. Although different nations have differing opinions on regulating cryptocurrency, Masato Kanda, Japan's Vice Minister of Finance for International Affairs, told Reuters that the overall consensus is to control the market.
Also, to help developing nations introduce central bank digital currencies (CBDC) following necessary international standards and define G-7's public policy guidelines for retail CBDC. Talks will focus on these issues. Retail CBDCs, instead of wholesale CBDCs are created for institutional uses such as moving money between banks. According to Kanda, the other area of concentration would be on the debt vulnerabilities of middle-income nations like the Gambia, Ghana, Ethiopia, and Sri Lanka.
Kanda noted that while the quick development of digital technology has its benefits, it has also given rise to new issues like cyber-security, the spread of false information, social and political divisions, and the potential for instability in the financial markets.



Brief History of the Group of Seven (G-7)
The group first came together informally in Paris in the early 1970s when leaders from the United States, United Kingdom, France, West Germany, and Japan gathered to discuss the recession and oil problem of the time. The French President Valéry Giscard d'Estaing was then encouraged to invite the presidents of those nations and Italy to Rambouillet in 1975 for additional discussions on world oil, this time with the country's leaders joining the finance ministers, an attendance list that has persisted for several years. Canada was sent an invitation to join the group the following year.
The host of the G-7 summit, also known as the presidency, rotates annually among member countries in the following order: France, United States, United Kingdom, Germany, Japan, Italy, and Canada.



G7's Expansion to G-8
The G-7 had reacted as the world economy changed, particularly when the Soviet Union announced that it would hold its first direct presidential election and commit to building an economy with more open markets. President Boris Yeltsin organized meetings with the G-7 member nations after a G-7 summit in Naples, Italy, in 1994. These conversations became known as the P-8 (Political 8).
An official Group of Eight, or G-8, was established in 1998 when Russia joined the G-7 as a full member at the encouragement of world leaders, particularly U.S. President Bill Clinton. The G-8 ultimately had a brief existence.
Russia was expelled from the organization in 2014 due to the annexation of Crimea and the unrest in Ukraine. Russia has yet to receive a G-7 invitation as of this writing.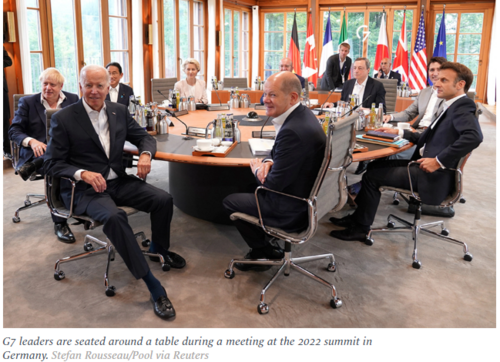 Image Sourced @ Council on Foreign Relations
G-7 Aims to Assist Developing Nations With the Establishment of CBDCs
The Group of Seven (G-7) announced its commitment to promoting financial inclusion for developing nations by using central bank digital currencies. This move comes as a response to the COVID-19 pandemic, highlighting the need for greater access to financial services.
The G7 has recognized the potential of CBDCs to increase financial inclusion and reduce poverty in developing nations. By providing access to digital financial services, CBDCs can help people currently excluded from the traditional financial system, such as those living in remote areas or without access to banking services.
Moreover, CBDCs can facilitate cross-border transactions and reduce remittance costs. This is particularly relevant for developing nations, where remittances play a significant economic role. In 2020, remittances to low- and middle-income countries reached a record high of $540 billion, according to the World Bank.
The G-7's commitment to promoting CBDCs for financial inclusion is a significant step towards a more inclusive and sustainable global financial system. However, there are challenges to overcome, such as ensuring that CBDCs are accessible to everyone, including those without internet or digital devices, and that people will accept it as a means of exchange. From the look of things, most people may want to transact with Bitcoin and not the CBDC, which keeps them under the government's radar.
Moreover, the G-7 must work with developing nations to ensure CBDCs align with their specific needs and priorities. This requires collaboration and dialogue between the G-7 and developing countries and the involvement of the private sector and other stakeholders.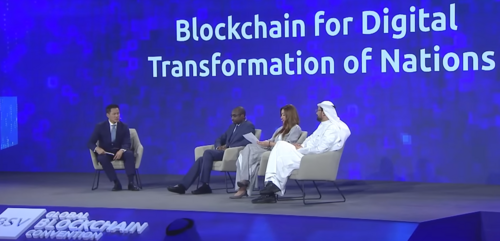 Image Sourced @ Coingeek.com
G-7 Meeting to Focus on Investor Protection
The leaders will advocate stronger laws to safeguard investors and more openness for cryptocurrency firms. Before meeting later this year in Japan, they intend to progress rules to achieve their goals.
Following the collapse of the TerraUSD stablecoin in early May of last year, the G-7 advocated additional and stricter regulations, according to the report published by Reuters. Japan is one of the G-7 nations with stricter cryptocurrency legislation, while the European Union will implement its Markets in Crypto-Assets (MiCA) law in 2024. The primary goal of the MiCA is to protect consumers and investors from the growing risks of digital assets while improving financial stability within the entire crypto market.
The United Kingdom is progressively establishing its crypto framework, introducing a dedicated category for cryptocurrency holdings on tax forms and ongoing preparations for a digital pound. The Congress of the United States is considering various measures. While we wait, the securities watchdog has taken enforcement action against businesses they claim have broken the law on securities.
Many crypto enterprises have moved from the United States to Singapore, the United Kingdom, Dubai, and the EU due to what crypto industry participants perceive as lacking commitment to establishing clear regulations for crypto businesses in the States.
Recommendations on controlling, monitoring, and overseeing the markets for crypto assets, stablecoins, and related activities are expected to be presented by July and September. But it still needs to be apparent what the outcome would be.
Some time ago, the IMF urged nations to remove cryptocurrencies' legal currency status in an action plan on crypto assets published in February. It is commonly known that the IMF opposes using cryptocurrencies as legal tender, especially in light of El Salvador's adoption of Bitcoin as its official currency in September 2021.
However, the group has been pushing nations to embrace stricter crypto regulations while also developing an open-source infrastructure for central banks to connect their digital currencies and facilitate international trade.



FASB To Act on Travel Rule
The G-7 leaders' meeting with the Financial Accounting Standards Board means they could impose rules on the international crypto movement. The leaders work in close relations with the FASB to handle stability risks associated with crypto assets.
They asked the FASB to advance the swift development and implementation of consistent and comprehensive regulation of crypto-asset issuers and service providers intending to hold crypto-assets, including stablecoins, to the same standards as the rest of the financial system.
The G-7 leaders demand further action concerning the travel rule for cryptocurrency assets. Delegates to the Financial Action Task Force plenary in Paris recently resolved to put revised guidelines for the Travel Rule into effect. These standards will enforce the "transmission of originator and beneficiary information" for cryptocurrency.
The virtual asset legislation implemented in 2019 was followed by these stricter enforcement criteria. This rule at the time included a requirement to gather information regarding the origin and destination of transfers of virtual assets.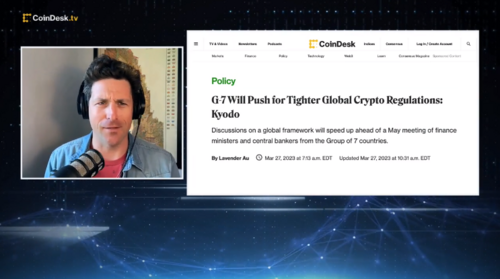 Image sourced @ CoinDesk.tv
In line with all the fights against cryptocurrency, one cannot help but think whether the G-7's crypto regulation is a weaponized tool against people's Freedom or whether they are acting in their best interest. Decisions made about the issuance of CBDC will undoubtedly impact our financial system and society as a whole. Stakeholders are essential since an isolated decision-making process would certainly be detrimental.
Therefore, the Freedom of stakeholders should be in consideration in the regulation process to ensure that the inclusivity in payments infrastructure and finance that crypto and blockchain technology take satisfaction in contributing to is preserved. If at all, the G-7 should indeed be acting in the people's best interest.
The influence of CBDCs on nations' economies is extensive and varied. CBDCs may undermine conventional banking practices, but they also give banks much more room to innovate and expand financial inclusion. The adoption of CBDC calls for a transparent legislative environment, financial investment in digital infrastructure, and strong security precautions. Nations will need to adapt and change to compete in a world that is becoming increasingly digital as CBDCs gain popularity throughout the globe.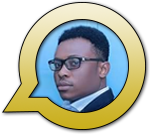 About:
Prince Ibenne
. (
Nigeria
) Rapid and sustainable human growth is my passion, and getting a life-changing opportunity into the hands of people is my calling. Empowering entrepreneurs provides me with enormous gratification. Find me at my
Markethive Profile Page
| My
Twitter Account
| and my
LinkedIn Profile.
Bruce Jacobs
Visits: 715 Visits: 5