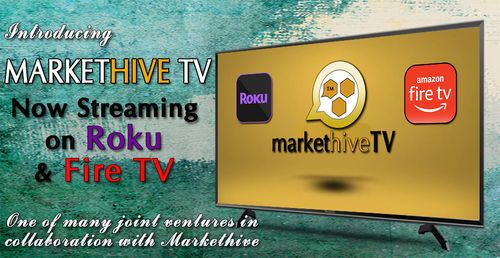 Introducing MARKETHIVE TV – Now LIVE on ROKU and AMAZON FIRE TV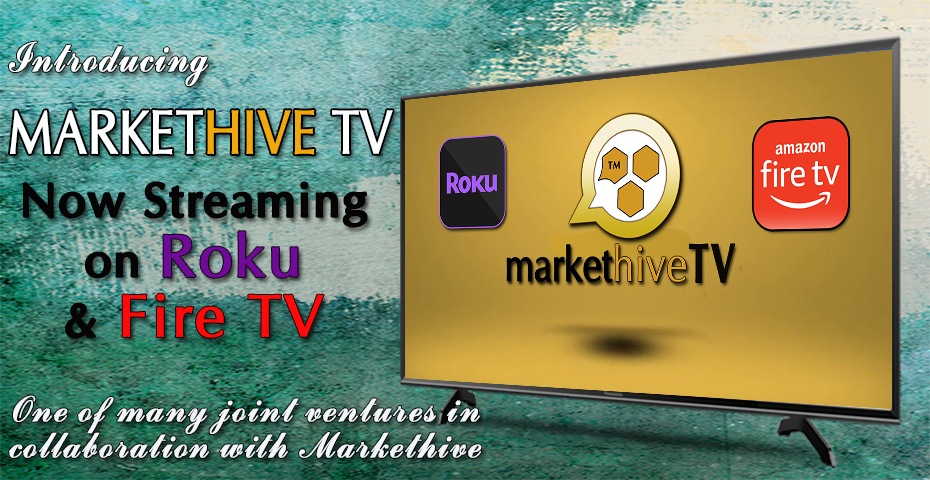 In the last week of July 2020, Markethive TV launched and is now live on Roku TV and Amazon Fire TV which is just one of many joint ventures Markethive.com, the Social Market Network is engaging to advance the platform and bring more opportunity to the Markethive community. With the newly launched Markethive TV facilitated by Greg Hoyt, a significant investor in Markethive, we now have another powerful medium to introduce Markethive to the world far beyond the typical portals.

This is a great opportunity for the continued growth of Markethive as more people are cutting the cord and canceling their subscriptions to cable and satellite TV. As of March 13, 2020, Roku TV has 39.8 million active users, while Amazon Fire TV has just surpassed 40 million. This by enlarge is because, while Roku has been popular in the USA, Amazon Fire TV sticks have shipped globally. These numbers are increasing in light of the pandemic as more people are at home either streaming for entertainment or looking for opportunities to work from home to replace the income they may have lost.
What does this mean for Markethive? Through the Markethive TV portal with its valuable content means more people on a medium other than social media and advertising platforms, has exposure to Markethive, so it's a whole new market being introduced to the Markethive social market platform, for entrepreneurs, artists, crypto enthusiasts, hobbyists, in fact, anyone looking to share and be part of an online community.
Current And Future Programming On Markethive TV
Currently, the Markethive TV channel consists of numerous videos, historic in nature, dating back to its inception and a great way to learn about Markethive, its mission, and values along with the all-encompassing platform that is the next generation in social media, automated inbound marketing, digital media broadcasting, ecommerce and a very accessible platform that drives a newly defined cottage industry in the online marketing world run by the community and tailored for the community.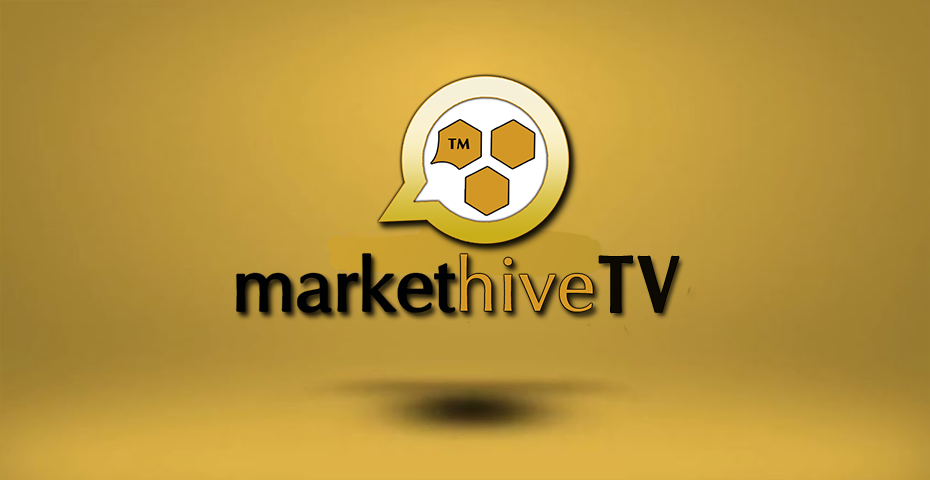 The direction in which Markethive TV plans to go would be the development of a live segment on the channel of interviews with industry experts about topics relevant to Markethive, Blockchain, Cryptocurrency, and anything that would be of interest to Markethive subscribers, along with educational and up to date news stories.
Ultimately there would be a host or even multiple hosts for the different interests and topics that will allow Markethive TV to bring interesting and valuable information to the viewers. A very important component is the ability for all Markethivers to contribute to the channel, by supporting, viewing, and positively rating it.

Accelerating Markethive's Growth And Ultimate Goals
Markethive TV will help accelerate the growth of Markethive, the social market network platform and realize its goals including economic growth for its ILP holders. Furthermore, to expand and implement a globally distributed system with its mining hives creating a decentralized force that cannot be shut down resulting in a safe and secure haven for the Markethive community.
When people realize that there is an organization, culture, and system that will give them what they need to be able to achieve financial sovereignty such as Markethive, (meaning we are not dependent upon governments or financial structures that oppress communities and Society in general), Markethive's growth will be exponential and lead us to 1000's of hybrid hive farms cultivating Medicinal Marijuana and producing or mining coins.


The Architecture Of The Mining Hives
A simple explanation from CEO and Founder of Markethive, Thomas Prendergast explaining how Markethive will become an untouchable force;
A server and farm at the bottom of the building, the second story is a greenhouse. The greenhouse is producing electricity to feed the servers below. The servers are producing the heat which in turn produces coin and at the core of all that is our Quantum dWave computer as one of the many decentralized database systems that are operated, controlled and protected by the blockchain of our wallet, meaning Markethives presence will be in every nook and cranny in the world and we will be spread out and decentralized along with many projects that will inspire and improve the world.
Initially, 3 Data centers will work in conjunction with our wallet on the blockchain and will be part of managing our distributed database. Eventually, Markethive will have 10,000+ data centers spread out globally in our mining hive facilities so the entire system will run off the closest data center to you but all interconnected, all updating themselves and all managed by blockchain. This is a substantial technological advancement with no other company doing it presently.

In a recent interview with Greg Hoyt, who is heading the Markethive TV venture, expressed,
" My primary desire for Markethive TV is to expose as many people from all around the world as possible to Markethive and bring them into the fold so that they may take this journey with us. They may be people who don't even realize yet that they want to be entrepreneurs, like people looking to quit their job or find themselves in a position where they need to find a reliable platform online that will help them produce an income.

We are in a rudimentary stage of development at this stage, but as we move forward, with new valuable content, live interviews, etc, anybody who comes across the channel will have the ability to join us at Markethive. The sky's the limit. For now, if we could get everyone in Markethive to tune in and rate our channel, will be a huge step forward."

Cutting The Cord From Cable And Satellite TV
Numbers are continually increasing of people purchasing a streaming device and subscribing to a streaming service rather than pay for cable TV. Labeled cord-cutting, and once seen as a revolutionary shift, has become commonplace. The top reasons for an OTT media service are to gain access to original programming (57%) and avoiding advertising (44%).
The cord-cutting revolution isn't slowing down anytime soon, in fact, it's gaining traction with older audiences as 28% of consumers over 50 years old don't pay for traditional TV service, and 61% get TV content from online sources, which is up more than 27% in two years. The proportion of Internet users watching videos online has grown from 45 percent in 2013 to 70 percent in 2017, and now 90% of consumers are tapping into their preferred content over the internet and unleashing their power of choice.
Apple TV (which launched November 1st, 2019 worldwide) and Google Chromecast are two more streaming services and are in the sights of Greg Hoyt with the potential to add the Markethive TV channel in the future. As more and more people move over from cable to streaming services, this puts Markethive TV right at the forefront of what's happening in the industry.


Basic Thru To High-End Streaming Devices Available
Roku has been around for years and one of the first heavily advertised streaming devices that keep reappearing every year as one of the dominant ways to cut the cord. Roku Express is rated as the best for beginners and with fast, HD streaming, not 4K, which is excellent for lower bandwidth or slower WiFi internet services.
Roku Ultra streaming media player is America's #1 streaming platform, based on hours streamed. The most powerful and feature-packed media player that streams HD/4K/HDR
Ultimate connectivity with dual-band wireless and an ethernet port. Voice remote with buttons for TV power and volume. Plus, lost remote finder and a headphone jack for private listening with included premium JBL headphones.

Amazon Fire TV Stick is another basic device for beginners, It's simple to set up with a quad-core processor, as well as 8 GB of storage and 1 GB of memory for apps and games that allows for fast streaming.
The latest device from Amazon is the Fire TV Stick 4K which has Alexa built-in including voice remote, Ultra HD, and Dolby Vision. According to Amazon, it is the most powerful Ultra 4K streaming stick they make. You will need a faster level of bandwidth and WiFi to support HD picture quality.
Google Chromecast is a cheap and easy way to stream video content right to your TV and also enables you to share your phone or laptop's screen directly onto your TV. With a Chromecast, you have a fast path to bring Netflix, YouTube, Hulu, and many more services straight to the biggest screen in your house.
Apple TV, very powerful, but pricey has 4K and HD boxes that feature the latest technology. creating a crisper picture using four times more pixels than a standard HD along with Dolby Atmos sound, along with 32GB of storage.
The more hi-end streaming devices are the Fire TV Cube, Apple TV, and Google Chromecast Ultra with all the characteristics of the Roku Ultra and Amazon Fire Stick 4K and then some but are almost double in price. Depending on your requirements, the basic devices are often enough for the average user.


The Difference Between Paid Subscription Streaming Services and Devices
Netflix and Amazon Prime TV among many others are a more commercial, mainstream service where you can access movies and popular shows based around entertainment. The hardware like the Roku Express and Amazon Fire Stick are the devices that give you access to these streaming services and are a one-time purchase. As long as you have a wi-fi connection, you can browse the internet and have access to other video streaming apps. You do not need a paid service like Amazon Prime to use the Fire Stick.

What's The Next Step?
To access Markethive TV, you'll need to get the app devices (sticks), which you can get online from Amazon, Walmart, or the type of stores that specializes in electronics. Also, Greg Hoyt has created a banner ad where you can order the Roku or Fire Stick devices, so click on the banner at the bottom to order yours. Each app requires its own device. Notably, with Amazon Fire TV, you may need to search for Markethive TV under "APPS" rather than in the regular TV & movie sections.
To help bring Markethive TV into the limelight we would like as many Markethive entrepreneurs as possible to participate in promoting the channel in the Markethive newsfeed to create momentum so that the 1000's of new members joining every day are aware of this venture.
Then, go to Markethive TV on Roku or Amazon Fire TV (or both) and rate the channel after watching about 10 minutes of the content. The more consistent viewers and ratings the Markethive TV channel receives and the greater the audience gives a better chance of Markethive TV being displayed on a viewer's TV screen as opposed to having to search for the channel to view it.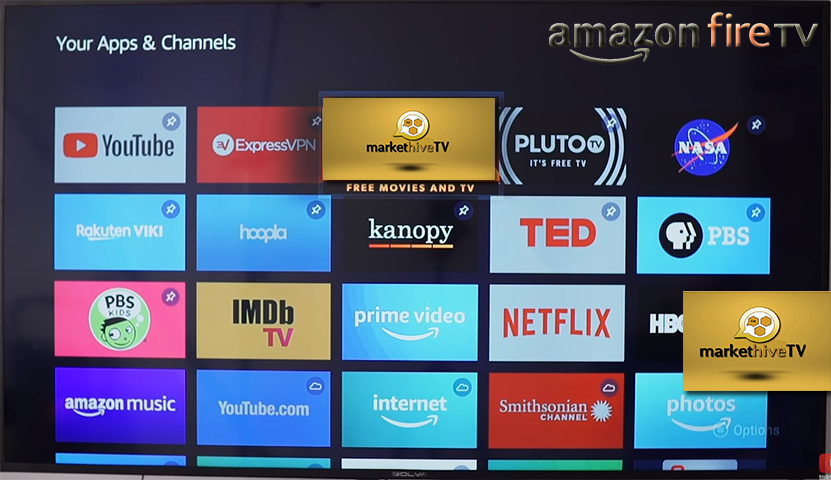 One of many Markethivers who rated Markethive TV had this to say,
"I loaded it on my Firestick today. The videos look great in true HD. Gave the app 5 stars on Amazon, and then some. Thanks for all the hard work on the app. Very well done."
As Greg says,
"The timing coincides nicely with the efforts of Thomas and the rest of the team, as Markethive continues its strong growth, along with the remarkable Alexa Ranking, Markethive TV will be adding to that momentum."
Conclusion
Markethive, delivering a blockchain-driven Market Network for Entrepreneurs with a cryptocurrency ecosystem, integrated with an inbound marketing tools platform, multiple ecommerce tool platforms with blog broadcasting from members and staff writers delivering the latest news, insights, and analysis from 100,000s of bloggers and journalists from many industries. Now we have Markethive TV live on Roku and Amazon Fire streaming networks on a mission to deliver Markethive to a new level and market, creating an even more widespread reach illuminating the platform that has been built for the people, by the people, and of the people.

Deb Williams
A Crypto/Blockchain enthusiast and a strong advocate for technology, progress, and freedom of speech. I embrace "change" with a passion and my purpose in life is to help people understand, accept, and move forward with enthusiasm to achieve their goals.
Bruce Jacobs
Visits: 3135 Visits: 4