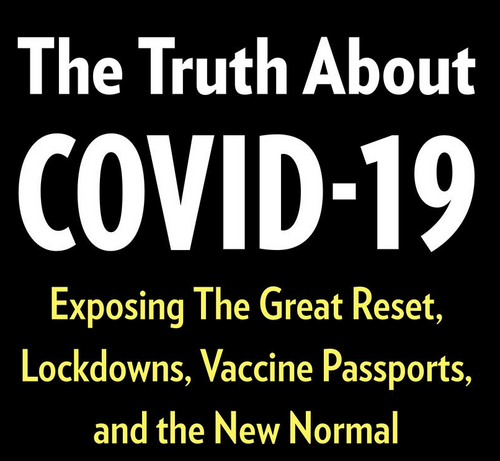 Facts vs Agendas

GET THE BOOK HERE: https://www.amazon.com/Truth-About-COVID-19-Lockdowns-Passports/dp/1645020886
---
Abstract
Discovered in the late-1970s, the pioneering drug ivermectin, a dihydro derivative of avermectin—originating solely from a single microorganism isolated at the Kitasato Intitute, Tokyo, Japan from Japanese soil—has had an immeasurably beneficial impact in improving the lives and welfare of billions of people throughout the world. Originally introduced as a veterinary drug, it kills a wide range of internal and external parasites in commercial livestock and companion animals. It was quickly discovered to be ideal in combating two of the world's most devastating and disfiguring diseases which have plagued the world's poor throughout the tropics for centuries. It is now being used free-of-charge as the sole tool in campaigns to eliminate both diseases globally. It has also been used to successfully overcome several other human diseases and new uses for it are continually being found. This paper looks in depth at the events surrounding ivermectin's passage from being a huge success in Animal Health into its widespread use in humans, a development which has led many to describe it as a "wonder" drug.
Introduction
There are few drugs that can seriously lay claim to the title of 'Wonder drug', penicillin and aspirin being two that have perhaps had greatest beneficial impact on the health and wellbeing of Mankind. But ivermectin can also be considered alongside those worthy contenders, based on its versatility, safety and the beneficial impact that it has had, and continues to have, worldwide—especially on hundreds of millions of the world's poorest people. Several extensive reports, including reviews authored by us, have been published detailing the events behind the discovery, development and commercialization of the avermectins and ivermectin (22,23-dihydroavermectin B), as well as the donation of ivermectin and its use in combating Onchocerciasis and lymphatic filariasis.1–6) However, none have concentrated in detail on the interacting sequence of events involved in the passage of the drug into human use.
When it first appeared in the late-1970s, ivermectin, a derivative of avermectin (Fig. ​(Fig.1 )1 ) was a truly revolutionary drug, unprecedented in many ways. It was the world's first endectocide, forerunner of a completely new class of antiparasitic agents, potently active against a wide range of internal and external nematodes and arthropods. In the early-1970s, a novel international Public Sector–Private Sector partnership was initiated by one of us (Ōmura, then head of the Antibiotics Research Group at Tokyo's Kitasato Institute), forming a collaboration with the US-based Merck, Sharp and Dohme (MSD) pharmaceutical company. Under the terms of the research agreement, researchers at the Kitasato Institute isolated organisms from soil samples and carried out preliminary in vitro evaluation of their bioactivity. Promising bioactive samples were then sent to the MSD laboratories for further in vivo testing where a potent and promising novel bioactivity was found, subsequently identified as being caused by a new compound, which was named 'avermectin'.7) Despite decades of searching around the world, the Japanese microorganism remains the only source of avermectin ever found.1) Originating from a single Japanese soil sample and the outcome of the innovative, international collaborative research partnership to find new antiparasitics, the extremely safe and more effective avermectin derivative, ivermectin, was initially introduced as a commercial product for Animal Health in 1981. It is effective against a wide range of parasites, including gastrointestinal roundworms, lungworms, mites, lice and hornflies.7–12) Ivermectin is also highly effective against ticks, for example, the ixodid tick Rhipicephalus (Boophilus) microplus, one of the most important cattle parasites in the tropics and subtropics, which causes enormous economic damage. Indicative of the impact, in Brazil, where some 80% of the bovine herd is infested, losses total about $2 billion annually.13) Today, ivermectin is being used to treat billions of livestock and pets around the world, helping to boost production of food and leather products, as well as keep billions of companion animals, particularly dogs and horses, healthy. The 'Blockbuster' drug in the Animal Health sector, meaning that it achieved annual sales in excess of over US$1 billion, maintained that status for over 20 years. It is so useful and adaptable that it is also being used off-label, sometimes, illegally, for example to treat fish lice in the aquaculture industry, where it can have a negative impact on non-target organisms. It also has extensive uses in agriculture.2)
Molecular diagrams of avermectin and the di-hydro derivative, ivermectin.
Ivermectin proved to be even more of a 'Wonder drug' in human health, improving the nutrition, general health and wellbeing of billions of people worldwide ever since it was first used to treat Onchocerciasis in humans in 1988. It proved ideal in many ways, being highly effective and broad-spectrum, safe, well tolerated and could be easily administered (a single, annual oral dose). It is used to treat a variety of internal nematode infections, including Onchocerciasis, Strongyloidiasis, Ascariasis, cutaneous larva migrans, filariases, Gnathostomiasis and Trichuriasis, as well as for oral treatment of ectoparasitic infections, such as Pediculosis (lice infestation) and scabies (mite infestation).14) Ivermectin is the essential mainstay of two global disease elimination campaigns that should soon rid the world of two of its most disfiguring and devastating diseases, Onchocerciasis and Lymphatic filariasis, which blight the lives of billions of the poor and disadvantaged throughout the tropics. It is likely that, throughout the next decade, well over 200 million people will be taking the drug annually or semi-annually, via innovative globally-coordinated Mass Drug Administration (MDA) programmes. Indeed, the discovery, development and deployment of ivermectin, produced by an unprecedented partnership between the Private Sector pharmaceutical multinational Merck & Co. Inc., and the Public Sector Kitasato Institute in Tokyo, aided by an extraordinary coalition of multidisciplinary international partners and disease-affected communities, has been recognized by many experts and observers as one of the greatest medical accomplishments of the 20th century.15) In referring to the international efforts to tackle Onchocerciasis in which ivermectin is now the sole control tool, the UNESCO World Science Report concluded, "the progress that has been made in combating the disease represents one of the most triumphant public health campaigns ever waged in the developing world".16)
You can read the rest of the article here:
https://www.ncbi.nlm.nih.gov/pmc/articles/PMC3043740/
Do not let political agendas blind you from the truth.
Bruce Jacobs
Visits: 2484 Visits: 1