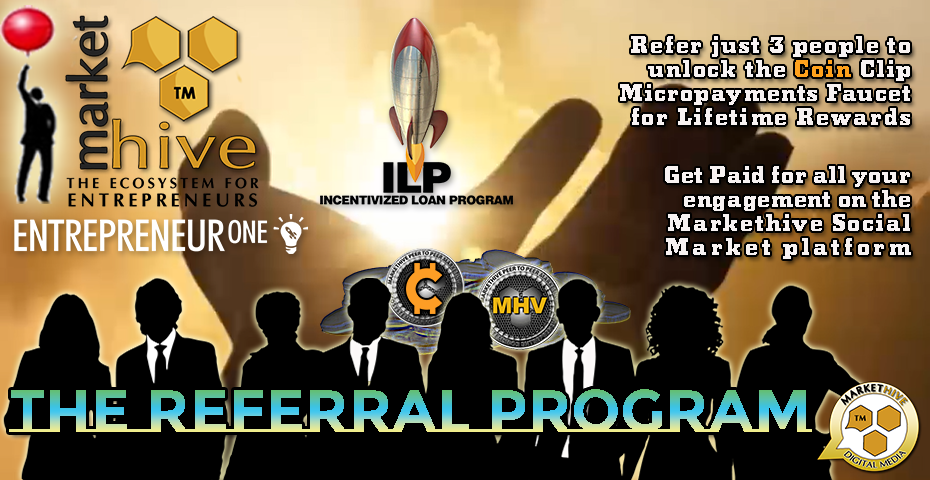 MARKETHIVE'S REFERRAL PROGRAM EXPLAINED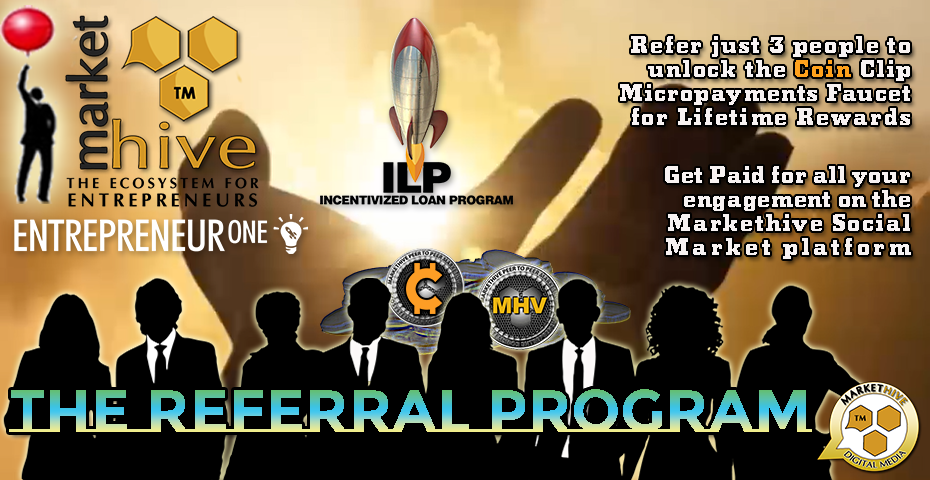 REFER THREE TO MARKETHIVE TO RECEIVE BONUS AIRDROPS AND ACTIVATE MICROPAYMENTS
Referral Program For Free Members And Upgraded Associates
Markethive is steadfast and in preparation to take a large share of the new Market Network that is the next generation following the Social Media craze of Web 2.0. Markethive is a Social Market Broadcasting Network. It sounds like a mouthful, and it is!

Markethive is an all-encompassing platform that has integrated;
Social Media

(like Facebook, LinkedIn)

SAAS tools

(like GoToMeeting, Aweber, Google Apps)

Inbound Marketing

(like Marketo, Hubspot)

Commerce platform

(like eBay, Freelancers, Amazon)

Digital Media

(like Cointelegraph, Bitcoin.com)
As Markethive's foundation is Blockchain-driven, it has its consumer coin, Markethive Coin (MHV), which is fully integrated into the system and has created an Ecosystem for all Markethive members, free and upgraded Entrepreneurs.
So Markethive has established their niche as the only social (Market) Network with an infinity Airdrop and a system that rewards the users for engaging on the platform and learning how to use it with ongoing, real-time micropayments, otherwise known as a Faucet.
Markethive has the combined power of Facebook, LinkedIn, Marketo, and Amazon, with the real advantage of deriving and income within the Markethive system while promoting your business a

nd enjoying the social media platform.



What If You're A Free Member?
If you've just signed up to Markethive, you will have received your airdrop of 500 Markethive Coins (MHV) to your CoinClip. The next thing to do is to refer just 3 of your friends or colleagues to Markethive, which unlocks the Micropayment Faucet, allowing you to receive lifetime rewards of MHV Coin.
So a Free Membership in Markethive allows you to earn coins with every post, process, and function within the system and, like a faucet system, earn micropayments of Markethive Coin.
Remember, it is not just another payment service provider other Social Media platforms have adopted. You genuinely earn MHV Coins, and now is a perfect time to accumulate your coins.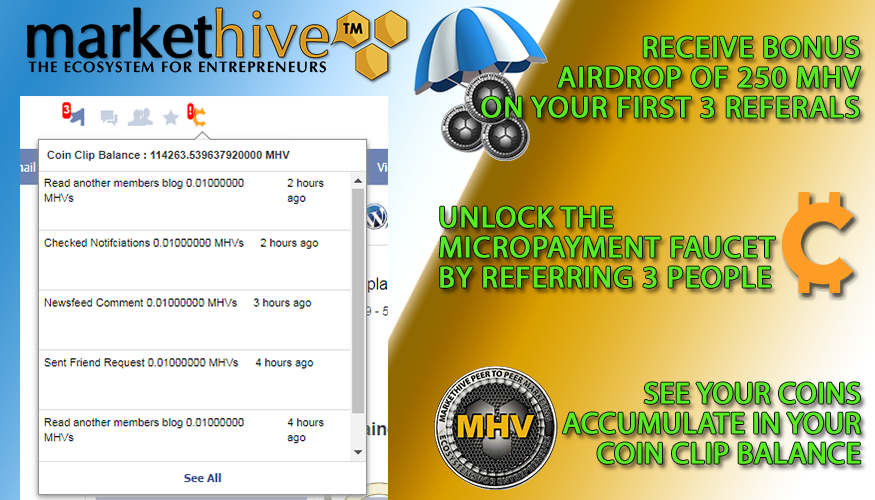 Bonus!
Markethive will also reward you with a bonus of 250MHV for your first three members you invite to join us. You will receive these coins to your coin clip as soon as they sign up and complete the verification process via SMS code.
Please note: To receive the maximum of 500 MHV bonus airdrop for all subsequent referrals (after the first three), you will need to upgrade to Entrepreneur One.
Markethive Wallet And Coin Exchanges
Markethive is in the process of listing MHV on choice high-profile coin exchanges, along with the multidimensional wallet. You'll be able to convert it into the currency of your choice or buy products and services within the Markethive ecosystem.
As stated in this article, Markethive will roll out a schedule to deliver the wallets and administer them in tiers and stages led by the upgraded Entreprepreneurs as the first cab off the rank.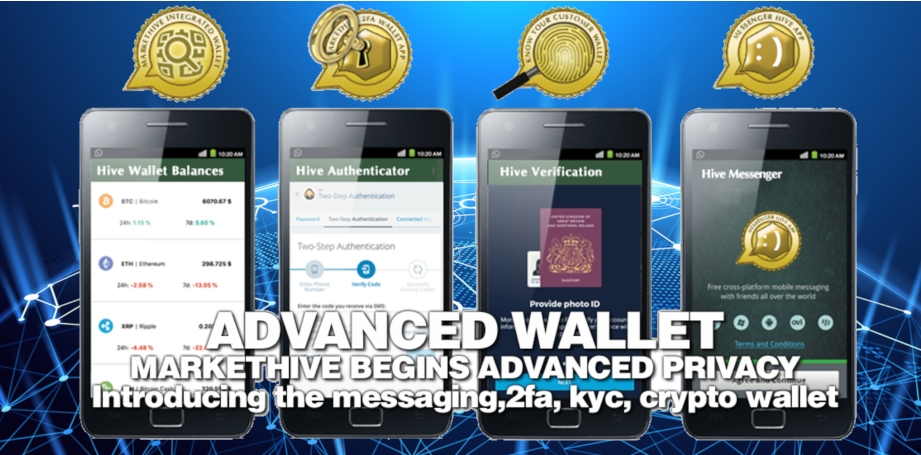 Thinking About Upgrading To Entrepreneur One?
Upgrading to Entrepreneur One provides many benefits and extra opportunities to monetize your activities and businesses, as defined in this article and is predominantly an online cottage industry.
Furthermore, apart from the matching coin bonus of 500 MHV for each person you refer, you will have access to an advanced CMS control panel for your new "associate leads" found in the Friends section. You are essentially building your email list for your email autoresponder and broadcaster within the Markethive SaaS tools portfolio.
As an Entrepreneur One Upgrade, you are considered an early adopter of Markethive, so also included are ILP shares (Incentivized Loan Program) in the net profit revenue of Markethive.
In and of itself, this is a unique opportunity to create a legacy and reap the rewards only venture capitalists could otherwise enjoy. Go here to learn more.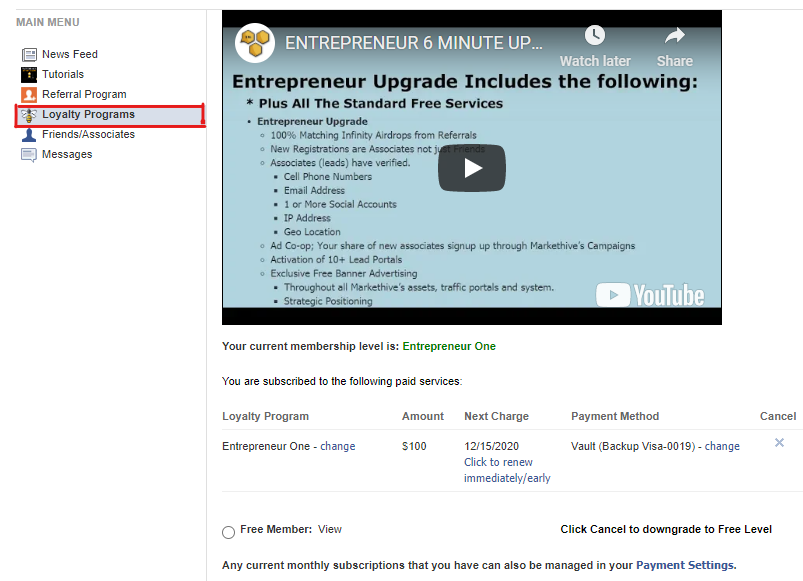 To upgrade to Entrepreneur One level now, navigate to the home page and click on "Loyalty Programs" displayed in the menu.
For your first upgrade, go to https://markethive.com/index_members?subscriptions.
You can have more than one subscription, which not only multiplies the assets you receive as an Entrepreneur One associate; you also have the opportunity to onsell the subscription as they are limited and will not be available from Markethive soon.
The Entrepreneur One will become extremely valuable as we introduce more of the unique money machines, including the Blast, Press Release, and video advertising.
To acquire two or more, go to The Vault page: https://markethive.com/vault?subscriptions.
To learn more about The Vault, click here.

The Automated Referral Panel
Using your referral links via the automated referral panel is an easy way to promote Markethive to your friends and colleagues on other social media sites.
You will find the automated referral panel on the home page menu named Referral Program. You have two links, as shown in the image below.
The top one is the link to your Profile Page or Bio. Sharing this link is excellent for branding yourself or your business, as explained here.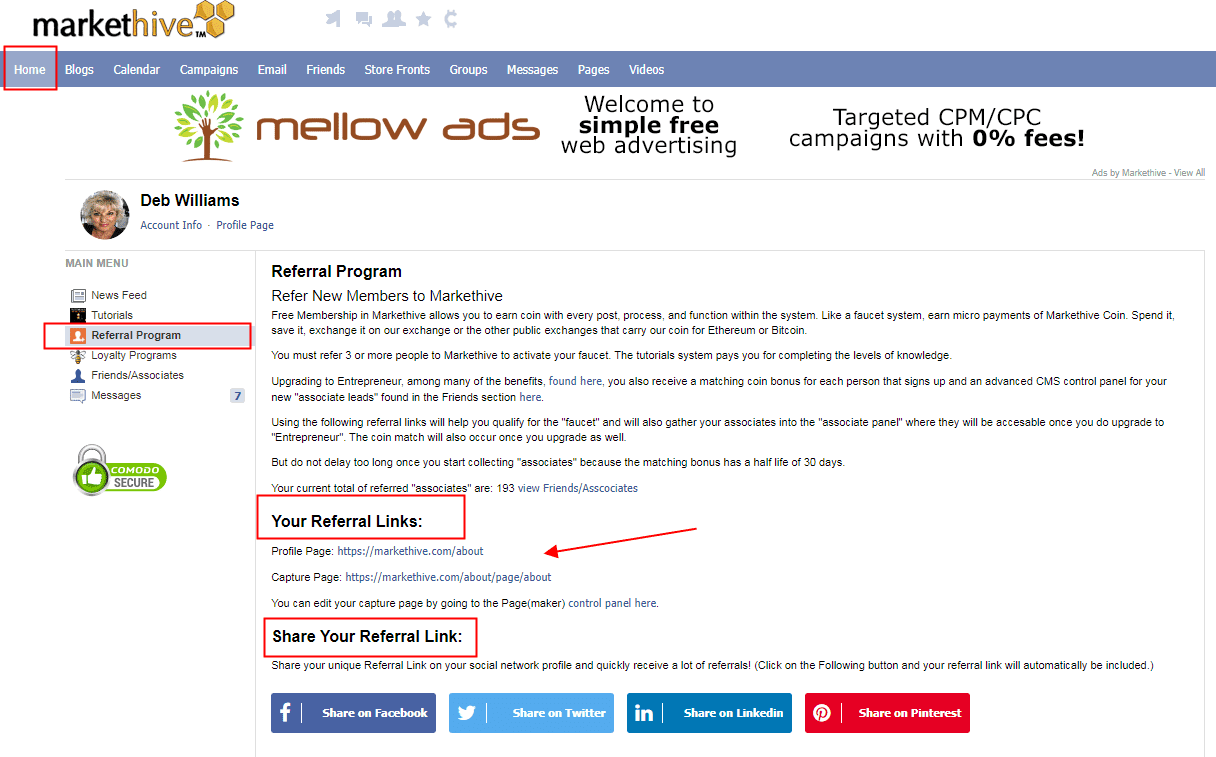 Share your unique Referral Link on your social network profile consistently and quickly receive a lot of referrals! Click on the Social Media buttons, and your Capture page referral link will automatically be included. There is an assortment of thumbnails (images) that will rotate, giving your post a fresh new look every time you share.

The Capture Page
The second link is your Capture page that is incredibly informative with a video and bullet point explanations. It's intuitive, simple, and captivating.
The Bottom Line
Bottom line, by joining Markethive, you will get a Market Network Inbound Marketing platform worth $2500 per month for free and get "Airdropped" paid up to 500 Markethive coins [MHV] just for joining.
By referring three people only, you activate the micropayment faucet and continue to receive MHV coin payments for the duration of your life within the hive for all activity you perform on the Markethive Platform.
Since the entire system runs on Markethive coin, you can expect the volume demand and increased velocity of the MHV coin to drive coin value accordingly. This is one of the main reasons we refer to our system as a legitimate alternative to universal income, based on ethics and integrity, not government-mandated theft and graft.
Interestingly, the first Faucet invented was the Bitcoin faucet launched by Gavin Andresen, one of the earliest Bitcoin developers, in June 2010. At that time, Bitcoin was about 8 cents. It gave out 5 Bitcoins a day until 2011 when it ran out of coins.
Markethive has embraced this reward system and applied it to the many marketing and communications aspects within Markethive. The big what if is; in 10 years, will Markethive coin have a similar rise in value? No doubt in my mind, given that MHV is a consumer coin with a real use case, unlike so many other altcoins on the market. Time, technology, and the universal need for a holistic platform such as Markethive are on our side. Markethive to the moon!

Meanwhile, get busy and refer three people to unlock the faucet and start accumulating MHV coin. You will enjoy the fruits of Universal Income, which is Markethive's vision for everyone and destined to achieve.



Written by Deb Williams
Chief Editor and writer for Markethive.com, the social, market, broadcasting network. An avid supporter of blockchain technology and cryptocurrency. I thrive on progress and champion freedom of speech and sovereignty. I embrace "Change" with a passion, and my purpose in life is to enlighten people en masse, accept and move forward with enthusiasm.
Bruce Jacobs
Visits: 1832 Visits: 2