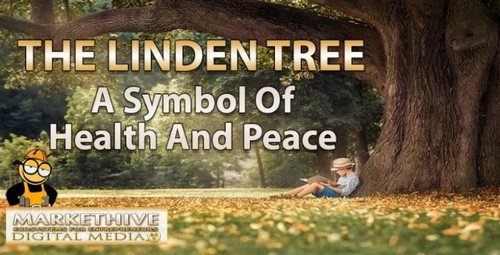 Linden Tree Symbol Of Health And Peace
Linden trees have a long history of being cultivated for their therapeutic properties. In fact, the linden tree has been recognized as a symbol of health and peace for thousands of years. Throughout the ages, linden tree symbolism has been associated with a wide range of positive traits and qualities. In many cultures, the linden tree has been viewed as a potent charm against evil.
Tilia cordata, the small-leaved lime or small-leaved linden, is a species of tree in the family Malvaceae, native to much of Europe. Other common names include little-leaf or littleleaf linden, or traditionally in South East England, pry or pry tree. Its range extends from Britain through mainland Europe to the Caucasus and western Asia. In the south of its range, it is restricted to high elevations.
In the countries of Central, Southern and Western Europe, linden flowers are a traditional herbal remedy made into an herbal tea called lime tea or linden tea in Britain, tilleul in France.
Tilia cordata is the national tree of the Czech Republic and the Slovak Republic, and one of two national trees in Latvia. The leaf of Tilia cordata is also considered a national symbol of Slovenia.
As a drug, the flower is also taken with the leaf (Flos tiliae). It is collected even before full flowering, since there should not be fruits in it. The torn flowers are dried and used for the preparation of lime tea or combined medicinal mixtures.
When collecting it is necessary to beware of confusion with linden silver or linden American, whose flowers do not have the desired effects. It is not a problem to confuse it with the greater linden or its hybrid with the lesser linden.

Linden trees grow from 20 to 40 meters in height and live at least 200 years.

Healing properties
It promotes sweating, has diuretic effect, treats colds, bronchitis, cough, congestion, and works as an effective antipyretic. It has a beneficial effect in diseases of the digestive and urinary systems, mild insomnia, neurosis and hysteria, and strengthens blood clotting.
Contraindication
Lime blossom is not associated with any contraindications, it is often recommended as a drinking tea, so it can be drunk continuously. Linden is just that herb , the effect of which is enhanced by long-term drinking. Tea from Linden is not given only in case of an allergy to linden blossom.
case of an allergy to linden blossom.
Linden Ointment
2 handfuls of lime blossom

200 g of coconut oil

30 g of beeswax
Preparation
Add the lime blossom to the coconut oil, macerate, and heat occasionally. Let it stand for five days, then warm the mixture a final time. Strain the oil, and add pieces of beeswax into the warm oil and let them dissolve. Fill the prepared jars with the oil immediately.
Linden Decoction
Decoction of Linden is suitable for both adults and children and has proven to be very effective with viruses. Linden leaves are also recommended for people with sedentary work, who suffer, for example, swollen ankles or fingers on their hands.
Decoction is also an assistant for people tired of work or raising children. Last but not least, the decoction of the leaves will be liked by overworked and mentally exhausted people who sleep poorly.
Combination With Other Herbs
You can combine Linden leaves with other herbs to enhance their effects. They get along well with chamomile, lemon balm and black elderberry. Linden with chamomile or lemon balm can calm the mind, and Linden with black elderberry facilitates expectoration.
Spread of Linden in Europe and Asia
Tree Suitable Not Only For Healing
The healing properties of Linden are not the only use of this beautiful tree. It is commonly seen in parks and gardens to create shade. Linden is a widely used tree in many industries. It is purposefully planted for quality wood, which is popular among carvers and carpenters.
The Linden tree is used, among other things, in the manufacture of musical instruments, furniture, as a raw material for the production of charcoal and animal charcoal (Carbo medicinalis). Lime bark is widely used in footwear, basketry and rope making.
Linden is richly mentioned in history as an ornamental tree with a significant symbolic meaning. In the US, the Linden during the 17th and 18th century, became an important part of building planning.
A similar example can be found in Berlin (boulevard Unter den Linden). In the dark European Middle Ages, Linden was used to make weapons (see Beowulf). Linden is the National Tree of the Czech Republic, but also of Slovakia. Slovenians consider the leaf of the Linden heart as one of their national symbols.
In the old Slavic culture, Linden was a sacred tree and was identified with the goddess of love and beauty named Lada.
A Symbol Of Protection
Have you ever wondered why Linden is the Czech national tree? Linden has become a symbol of protection, help and love for its fragrance, charming crown and kind shade. People believed that he could drive away evil spirits and with his energy, rid a person of gloomy thoughts.
Everything culminated at the All-Slavic Congress in Prague in 1848, where Linden became the tree of the Slavs and officially since then, the Czechs have also considered it their national tree.
Lindens have also been associated with justice and the life force of our country since ancient times. Lindens transmit this power in a calm and healing way. In many tribal areas of our ancestors, not only the Slavs and Germans, Linden was a center for meeting and resolving disputes leading to just punishment.
Whenever it came to finding the truth in legal disputes, people gathered under the linden tree. They say that under it the pure truth will come to light, that its fragrance will tune the judge mercifully, and the quarreled parties will reconcile.
Linden in Glucholazy
Tree Of Peace
Glucholazy is a Polish town near to border of Czech Republic. This tree was probably planted after 1648 to commemorate the end of the thirty years ' war, which devastated parts of central Europe, including Silesia, as a Tree of Peace ("fridenslinde" – "Linden of peace").
Studies conducted several years ago allow, with a high probability, to assume that the deaf-mute monument of nature is indeed a "Linden of peace". Linden was mentioned already in antique times in works, for example, by Vergilius, Ovidius and Plinius, calling it the "golden tree".
"There are trees that you will remember for the rest of your life as some human faces;
there are trees that are almost holy."
Karel Čapek (Czech writer)
Just in this period of year linden trees are smelling of reconciliation and peace.
Margaret


Source:
Bruce Jacobs
Visits: 3809 Visits: 2