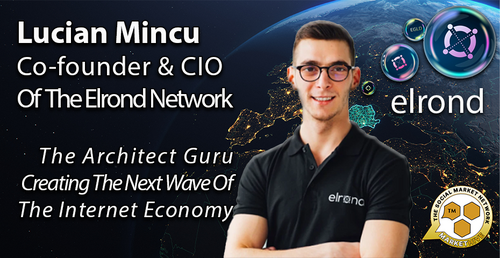 Lucian Mincu Co-Founder And CIO Of Elrond – The Architect Scholar Creating The Next Wave Of The Internet Economy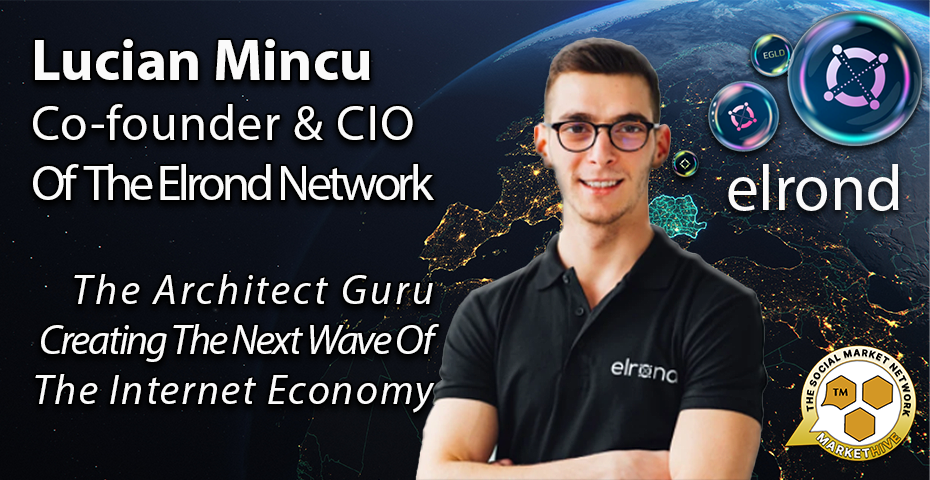 Elrond has a distinct advantage of having a team of professionals with both technical and entrepreneurial backgrounds. Beniamin Mincu had the spotlight in my previous article covering Elrond, highlighting his entrepreneurial skills by working with Blockchain start-ups and leading the marketing, business, and community-building efforts in his career. Today we'll give center stage to his brother Lucian Mincu, the man and hardcore engineer behind the complex infrastructure of Elrond.

Who Is Lucian Mincu?
Lucian Mincu is a Co-founder and Chief Information Officer (CIO) at Elrond. He is an infrastructure engineer with experience designing and implementing complex infrastructure and network architecture. He has been developing integrated products and network solutions for major corporate clients, including the German government, for over eight years.
Lucian is a strong advocate of breakthrough technologies and believes that Blockchain integration should only happen if it creates real value, giving anyone anywhere easy access to the digital economy by bringing a 1000x improvement in blockchain speed, scale, cost, and user experience.
Lucian Mincu's Background And Career
Lucian studied Computer Science at Industrie- und Handleskammer (Chamber of Commerce and Industry). He started his career working as an IT consultant in Sibiu, Romania, in 2010, where he assisted a broad customer base in solving issues related to PCs, Laptops, Workstations, Mobile devices, and Printing Devices. He also provided Web Administration and Web Mastering solutions using Python, HTML, PHP, XML, CSS, and JavaScript.
In June 2012, he joined Unhrenwerk24 UG, Ingolstadt, Germany, as a CTO, where he was responsible for creating and implementing sales strategies on end-to-end business solutions. He also worked closely with the management team on important subjects.
Lucian then worked as an IT System Engineer at Cetto Services GmBhIn in March 2014. His primary focus was on designing complete bottom-up infrastructures for optimized customer solutions. He was also in charge of the entire infrastructure for more than 20 education institutions.
Lucian Mincu joined LIEBL SYSTEMS GmbH in December 2016 as a Senior IT Security Consultant and Project Management. He was in charge of the infrastructure of several big institutions across the German State.
Lucian entered the blockchain space in 2016, where he and his brother Beniamin Mincu founded Metachain Capital and ICO Market Data and served as Chief technology officer till December 2017. He is currently a Co-Founder at Elrond Network, along with his brother, Beniamin Mincu and Lucian Todea.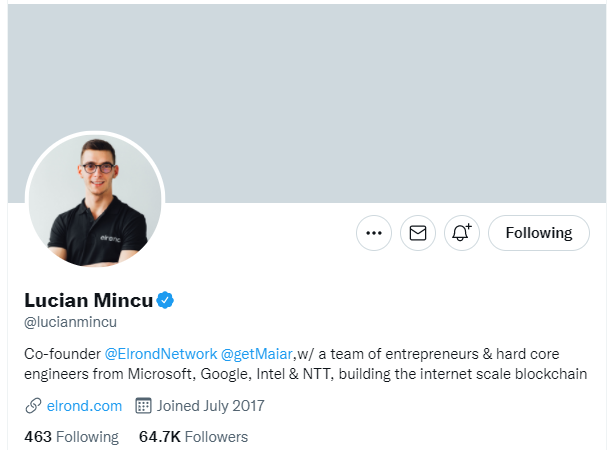 Lucian says,
"Great products are built by exceptional teams & communities.
Exceptional does not only mean great tech but, more importantly, the ability to remain resolute under significant pressure, putting in all efforts needed to overcome challenges.
Onwards & upwards."
Lucian is not one for producing videos; he leaves that to the entrepreneurs of the company. However, he is very active on Twitter with 64.7K followers. He constantly updates the community with Elrond's progress and up-to-the-minute integrations and tech as it happens.
He is loved for his timely updates and ability to communicate all things Elrond transparently. He indeed excels at his role of Chief Information Officer, resulting in an exciting, face-paced unprecedented Blockchain project and community growing exponentially.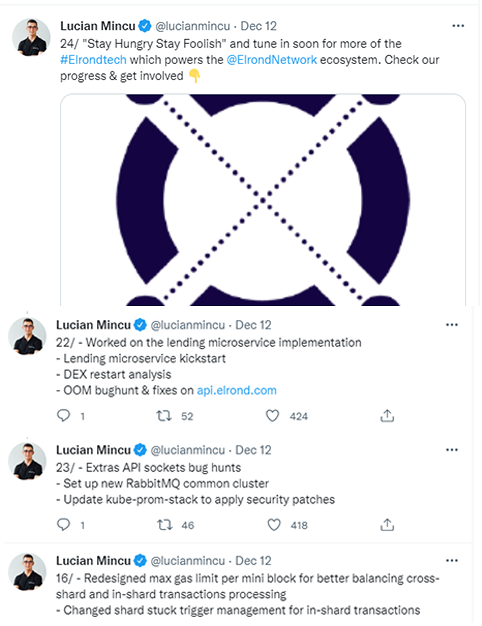 Image source: Twitter
Furthermore, the Elrond Network has a very active community on GitHub. GitHub is where millions of developers and companies build, ship, and maintain their software and is considered the largest and most advanced development platform globally.
Elrond Community
The size and enthusiasm of a community can directly impact the awareness and adoption of a cryptocurrency project, affecting marketing and general trading volumes. Elrond's Telegram Community has over 53K members and is highly engaged. Elrond's communication abilities and transparency are exceptional and are good reasons why it generates so much interest.
Mainstream is becoming much more aware of cryptocurrency and the future impact on society, but the majority find it difficult to comprehend or utilize the complex technology. The Elrond team saw this obstacle to massive global adoption and designed the tokenomics and utility to help the average person grasp the concept.
One of Elrond's primary goals is to make the interface clean and easy to understand, making it as stress-free as possible for new user adoption. They have succeeded with the Maiar mobile dApp, which, unlike many new dApps, was fully developed at launch with very few bugs and has been positively received from the start.
It is also called the "gateway to the unbanked," noting that "A large population of the world is unbanked, without access to the existing financial infrastructure, and so their opportunities to participate in wealth creation are extremely limited."
What Fuels The Elrond Economy?
eGold, (ELGD) is the native token created by the Elrond team and is the core of all internal usage in the Elrond ecosystem. They went further by designing it to create a substantial store of value, similar to physical gold, but with functionality that could make it superior to gold in the long run.
Creating the ticker symbol beginning with the 'e' prefix makes cryptocurrency more intuitive and easier to understand. Plus, it creates a logical and consistent foundation for future digital assets and currencies.
Inherent in the design of EGLD is the preface for the Elrond network to be compatible with other cryptocurrencies and with fiat currencies issued by governments. Eventually, all will be able to tap into Elrond's immense bandwidth capabilities and offer ways to transfer value electronically.
Elrond And NFTs
Not surprisingly, Lucian Mincu was the first of the Elrond Team to become an NFT. Thanks to a gifted NFT sketch artist, Elrond Memer, with a love for the Elrond Network, created a life-like sketch of Lucian. It was minted on the Elrond Blockchain with the highest bidder to receive the original piece of artwork as well.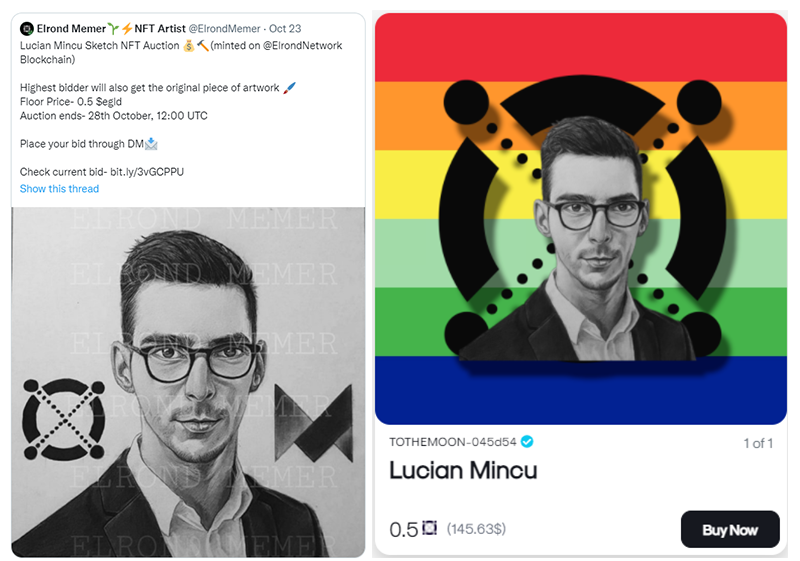 Image courtesy of Elrond Memer & emoon.space
Conclusion
The Elrond Network has continuously progressed for four years and has joined the mainstream blockchain projects. The fact that Binance Launchpad backed the project indicates Elrond was thoroughly vetted by Binance and found to be a solid project.
With the unique Adaptive State Sharding and Secure Proof of Stake, the project delivers the speed and scalability that hasn't been seen in many projects. Also, the support for multiple smart contract languages is integral for Elrond's move into the decentralized application space.
The team is highly-motivated, energetic, and very competent, with a deep skillset. They have outperformed, hitting deadlines and delivering as promised, and this alone is valuable in the blockchain space.
Lucian Mincu communicating with the Elrond community about the inner workings and keeping them updated is paramount and evokes enthusiasm leading to massive adoption and scalability, all of which Elrond is equipped to handle.
Stay tuned for more news about the team and the Elrond network as it makes headway as a highly scalable, fast, and secure blockchain platform for distributed apps, enterprise use cases like Markethive, and the new internet economy.



References:
Elrond.com
Twitter
LinkedIn
Everipedia
CoinBureau

Bruce Jacobs
Visits: 2819 Visits: 4