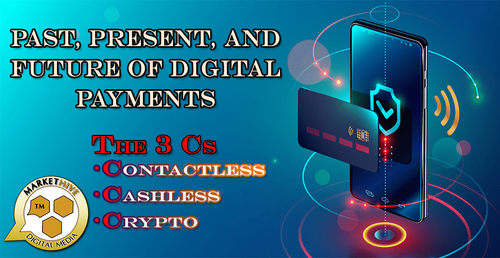 PAST, PRESENT, and FUTURE of DIGITAL PAYMENTS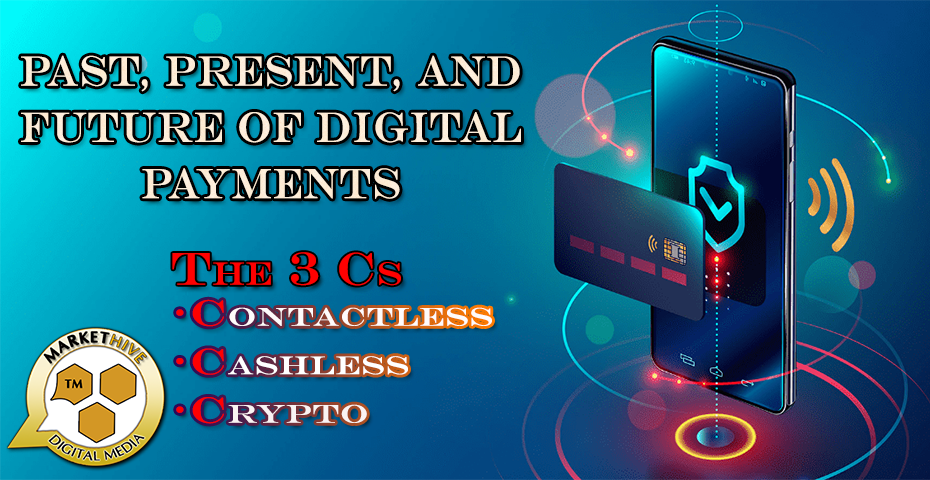 The 3 Cs – Contactless, Cashless, Crypto
We have experienced an architectural shift in the way we handle our financial transactions, particularly over the last decade. More recently, since the new safety regulations introduced and enforced due to the pandemic, consumer behaviors have changed to a more contactless and cashless way of buying things in-store with more businesses transitioning online. With this comes the rise in digital payments.
The world-renowned entrepreneur and engineer, Ken Olsen was quoted back in 1977 as saying, "There is no reason for any individual to have a computer in his home". That was around the same time I was receiving my wage as cash in a little yellow envelope.
To be fair, that quote was taken out of context and what he was referring to was computers set up to control houses, not your average pc, however, today that's exactly what's happened. Many in our society have installed technology with many if not all appliances armed with computers that connect them to the internet of things.
I'm personally still wary of this and wouldn't have it in my home, but the smartphone used for digital payments instead of cash, yes, absolutely. A more convenient and secure way to manage finances given the improved security we now have with ongoing advancements to address the arising needs in the future. It's even eliminating the need for physical credit/debit cards.

One Hundred Years Ago…
Electronic payments became a thing when the first was the charge card issued by Western Union back in 1921. Not long after department stores, hotels, and service stations also began offering charge cards. Diners Club was introduced in 1950, then came American Express and the BankAmericard founded in 1958 which then became Visa in 1977.
Since then, we saw the videotex system in the mid-1980s which from all accounts the world wasn't ready for so it didn't take off. It's also worthwhile mentioning that in 1983, David Chaum, an American cryptographer, started work on creating digital cash by inventing "the blinding formula, which is an extension of the RSA algorithm still used in the web's encryption." This was the very beginning of cryptocurrencies.
Online banking and bill pay came into play in the mid-1990s along with the first-ever online purchase in 1994. Accounts of who actually was the first vary but this video by Shopify reveals who the credit goes to.

Let's take a look at the digital payments timeline which began just over 25 years ago and how it's evolved as a solution for global transactions that reach into the $trillions every year.
Online Digital Payments Timeline
The origins of digital payments began when a 21-year-old entrepreneur Dan Kohn in Nashua, New Hampshire, sold a CD over the internet via credit card payment.
►1994: First online purchase is made
A CD of Sting's Ten Summoner's Tales is sold for $12.48 on NetMarket.
►1995: Amazon.com launched its online shopping site and eBay was also introduced.
►1997: First mobile payments and first contactless payments
Coca-Cola installs two vending machines in Helsinki that accept payment by text message.
►1999: Paypal launches electronic money transfer service
Early on, PayPal's user base grew by nearly 10% daily. Tesla CEO Elon Musk and venture capitalist Peter Thiel were among its co-founders.
►2003: Alibaba launches Alipay in China
Today, the mobile payment platform has witnessed stunning growth — leveraging digital wallets accepted by merchants in over 50 countries and regions.
►2007: M-PESA creates the first payments system for mobile phones
Kenya-based M-PESA launched its mobile banking and microfinancing service. Today, it has over 37 million active users on its platform across Africa.
►2009: Bitcoin enables secure, untraceable payments
Satoshi Nakamoto develops the first decentralized payment network in the world.
►2010: The first Bitcoin purchase took place
Two pizzas were purchased for 10,000 BTC on May 22, 2010. Given the current price of Bitcoin, that 10,000 BTC is worth around $129 million USD today.

►2011: Google Wallet is launched
In partnership with Citibank, Mastercard, and Sprint.
►2013: WeChat Pay is rolled into the popular messaging platform
By 2018, it surpasses 800 million monthly active users.
►2014: Apple Pay launches
To its iPhone users, Introducing widespread biometric authentication.
This is followed by Android and Samsung Pay a year later in 2015.
►2014:Ethereum launched
Vitalik Buterin launches Ethereum, building decentralized applications such as Smart Contracts which allow for autonomous and more complex payment transactions on the Blockchain.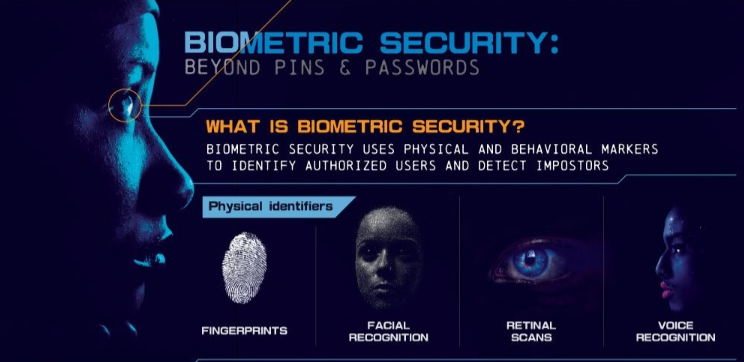 Image credit: Visual Capitalist

By 2023, over $2 trillion of mobile payment transactions could be authenticated by biometric technology. The use of biometric identification management technology for accurate customer identity verification has proven to deliver efficiency and convenience for organizations and also helps comply with government regulations to prevent identity theft and money laundering. Biometrics use intrinsic data, allowing for immutable identification and verification of people, and is fast and simple.
As technology continues to transform, advances in digital payment technologies and cryptocurrency are creating a knock-on effect worldwide.
What Does The Future of Digital Payments Look Like
According to Deutsche Bank Research, the coming decade will see digital payments grow at light speed. That will lead to the death of the plastic card. In emerging markets, the effect could arrive even sooner. Many customers are transitioning directly from cash to mobile payments without ever owning a plastic card.
In a recent survey, most plan to use a smartphone wallet more in the next six months, and most believe that digital wallets will replace traditional wallets within the next five years.
As more people use and rely on their smartphones for digital transactions as a means to manage their affairs and purchases with post covid guidelines, a number of other technological innovations may well be instrumental in shaping the evolving digital payments industry.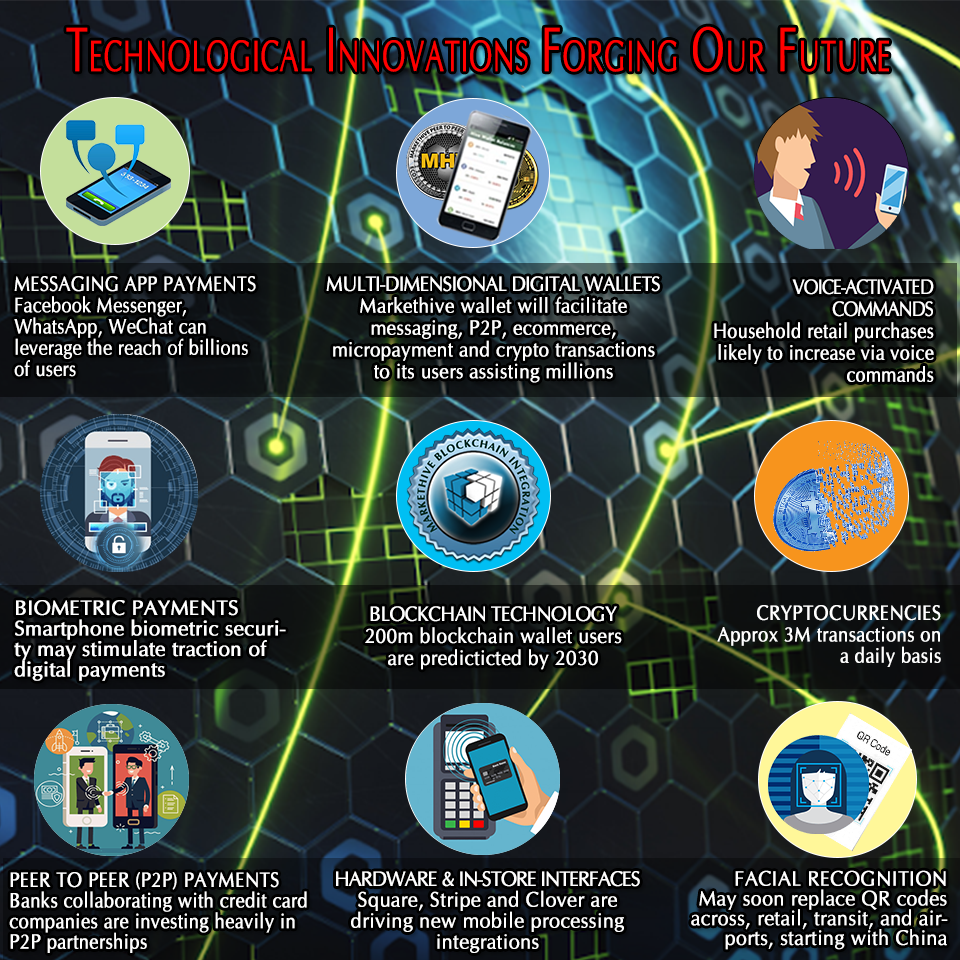 ♦ Messaging-app payments
Facebook Messenger, WhatsApp, and WeChat can leverage the reach of billions of users.
♦ Multi-dimensional Digital Wallet
Markethive is releasing its wallet to facilitate messaging, P2P, ecommerce, micropayment, and crypto transactions to its users reaching into the millions
♦ Voice-activated commands
Paying for gas, groceries, or retail via voice could soar.
♦ Biometric payments
Smartphone biometric security features could spur traction across digital payments.
♦ Blockchain wallet adoption
Blockchain wallet users are predicted to soar to 200 million by 2030.
♦ Cryptocurrencies
Daily transactions of leading cryptocurrencies total at approximately 3 million on average.
♦ Peer-to-peer (P2P) payments
Financial Institutions along with credit card companies are investing heavily in P2P partnerships, following PayPal's lead.
♦ Hardware & in-store interfaces
Square, Clover, and Stripe are driving new mobile processing integrations.
♦ Facial recognition
May soon replace QR codes across retail, transit, and airports in China.
Consumers said they chose mobile payments for the convenience, speed, and absence of fees. Retailers are taking note. Many are installing a mobile payment app "to fit customer desire." The key benefit is reduced effort with mobile payments, there is no need to type in a PIN or handle cash, which removes a psychological barrier. And then of course there is the contactless aspect of it which has become more prevalent today.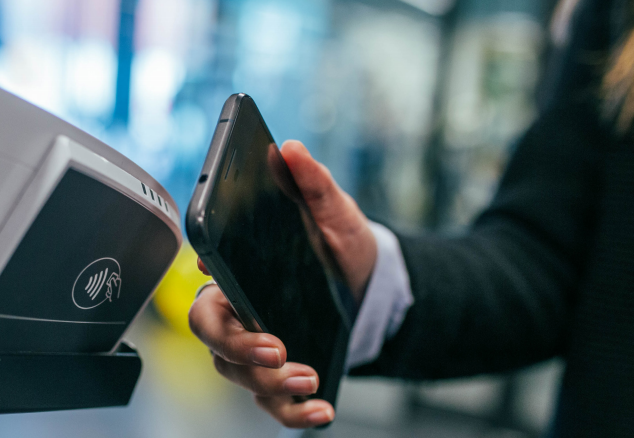 Image credit: Deutsche Bank
Crypto And Blockchain Experience Significant Growth
There has been significant growth in the use of blockchain and cryptocurrency in digital payments. There is a need and enormous opportunity for the online community to take advantage of cryptocurrency micropayments for engaging, facilitating their businesses and to some extent, gamification is becoming more popular and rewarding.
Markethive, the Blockchain-driven Social Market Network has realized the potential for cryptocurrency micropayments on its global platform which will extend to external coin exchanges and P2P payments via a multidimensional wallet, which is a POS wallet, a Mining Wallet (through the Markethive faucet systems), a private KYC/AML authentication provider, and a secure messaging system.
Blockchain being the technology behind cryptocurrency is foundational for building the next generation of digital transactions. This will establish trust in the trustless applications that provide transparency and immutability with the added benefit of streamlining business procedures, all of which is considered crucial by users as it enhances openness and efficiency of businesses.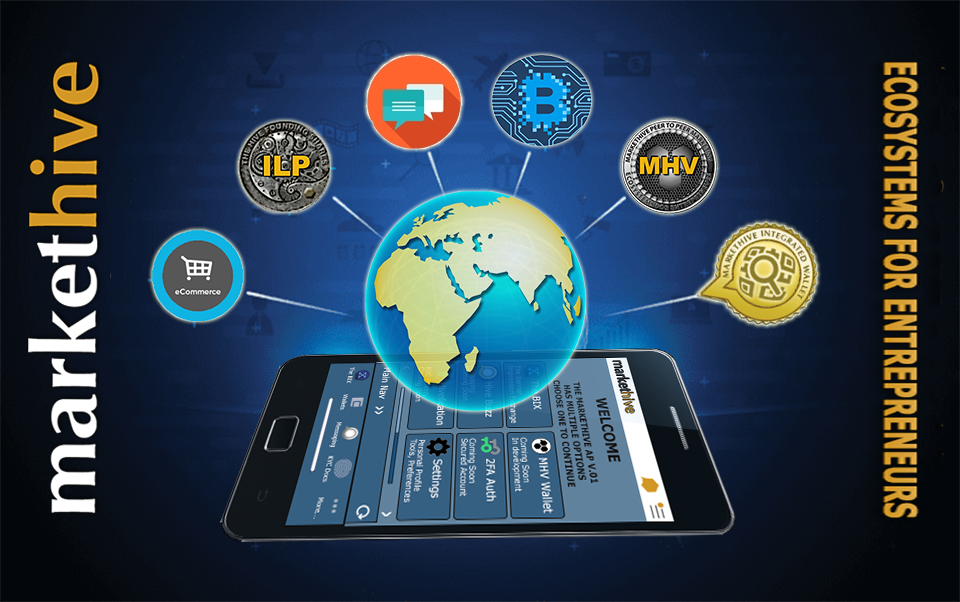 Recently, Paxos' announcement of PayPal now taking on cryptocurrency with its new service allows users to buy, sell, or hold cryptocurrency with their PayPal digital wallet. This is great for the crypto industry as PayPal will help to increase awareness and adoption along with education and utility for cryptocurrencies.
A Digital Economy On The Rise
The value of digital commerce and mobile POS payments continue to rise on a global scale with yearly transactions valued at $4.8 trillion in 2020. The industry is undergoing a substantial transition given the disruption and global advancements taking place as key technological innovations are integrated.
As digital wallets become more mainstream, transactional volumes are estimated to reach $9 trillion annually with online purchases and digital commerce driving the growth. As the industry expands its reach globally, users, consumers, investors, and businesses will all benefit from this transformative shift towards a digital economy.
The real possibilities in a decentralized, blockchain-based payments world cannot be underestimated. There are various types of payments automated with smart contracts and the Blockchain could ultimately be universal in everyday payments at a society level.

References:
Visual Capitalist
Deutsche Bank
Deb Williams
A Crypto/Blockchain enthusiast and a strong advocate for technology, progress, and freedom of speech. I embrace "change" with a passion and my purpose in life is to help people understand, accept, and move forward with enthusiasm to achieve their goals.
Bruce Jacobs
Visits: 3471 Visits: 5