Russian spokesmen are very sharp in their comments on the events in Ukraine. As we read their statements during last few days, a chill runs down our spines. They choose very sharp words.
"Russia will respond harshly to further strikes by Ukraine against military facilities on Russian territory initiated by the West", said Russian diplomat spokeswoman Maria Zakharova. According to her, the West openly encourages Kyiv to use the supplied weapons to attack Russia. Several fuel and ammunition depots have recently caught fire in southern and western Russia, with Moscow blaming Ukraine.
"What option do you leave us, idiots? Complete destruction of the remaining Ukraine? A nuclear attack? " Indicated the possible " answers "of the editor-in-chief of the state television, M. Simonjana, who, together with Zacharov, is considered a" Putin's fury "and the face of Russian propaganda.
The flames engulfed another strategic point of the Russians. Military warehouses near Belgorod have been burning several times this month. The question of whether Ukrainian forces, Russian sabotage, the Kremlin itself, or the interplay of coincidences are to blame remains unanswered.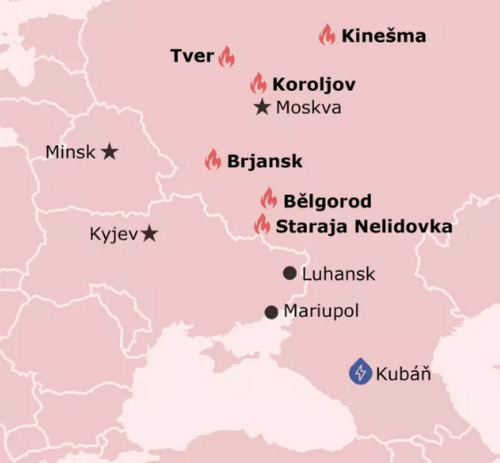 This map shows fires on Russian territory recently

"Efforts to arm Ukraine, even with heavy weapons, are actions that threaten the continent's security and provoke instability," said Russian President's spokesman Dmitry Peskov in response to words from the British Foreign Secretary. Liz Truss said Russian troops must be pushed out of all of Ukraine and the Allies must "redouble" their efforts and send more military equipment to Kiev.
A spokeswoman for Russian diplomacy also accused the Organization for Security and Cooperation in Europe (OSCE) of passing data on Russian forces to the intelligence services of the West and Ukraine.
More deliveries of Allied weapons are pouring into Ukraine. The United States in particular is showing faith in Ukraine's victory over Russia. At the summit in Germany, US Secretary of Defense Lloyd Austin pledged to move "heaven and earth" for Ukraine's victory.
Germany has announced that it will send 50 anti-aircraft tanks to Ukraine.
In an address to the Australian Parliament at the end of March, Ukrainian President Volodymyr Zelensky explicitly requested the 11-ton multi-purpose transporter.
The Bushmaster armored vehicles from Australia are already in action. Footage of the Ukrainian army testing them in combat has appeared on social networks.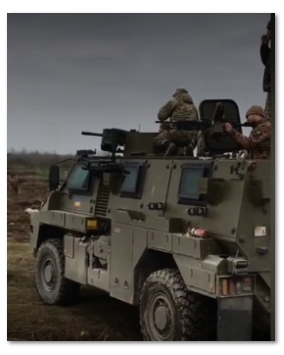 Australian Bushmaster in Ukraine

The dangerous situation is escalating.
Thanks for reading Margaret
Bruce Jacobs
Visits: 2629 Visits: 12