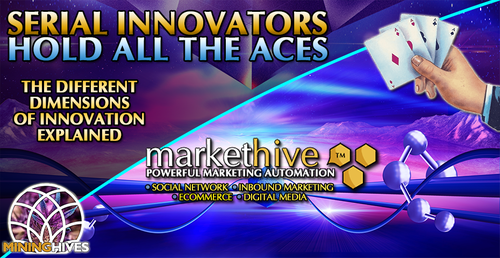 SERIAL INNOVATORS HOLD ALL THE ACES
THE DIFFERENT DIMENSIONS OF INNOVATION EXPLAINED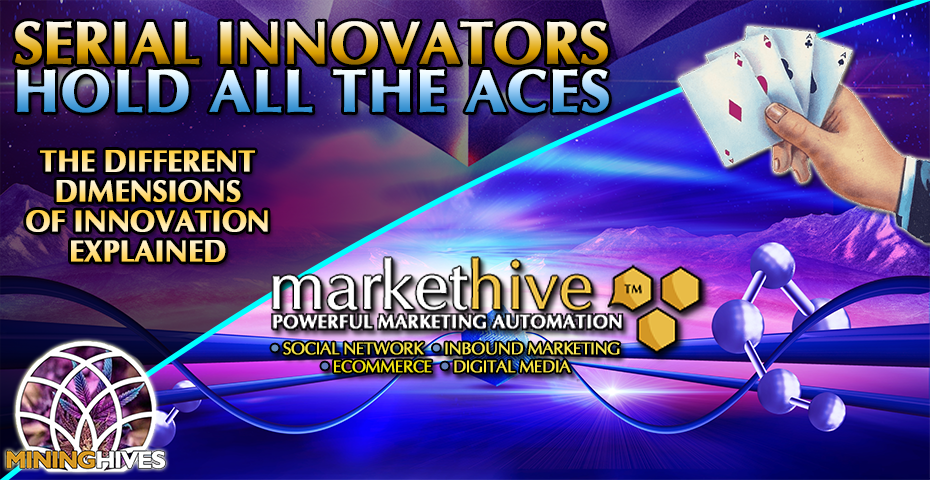 Did you know a typical S&P 500 company in the 1960s, was estimated to be in business for more than 60 years? But nowadays the average lifespan is only 18 years? In order to survive in today's rapidly changing world of technology, it's imperative that companies stay relevant, so it's become increasingly more important for businesses to be innovative. Innovation is an ongoing priority and the creation of innovation systems to perpetually foster creativity and agility is a purposed and proactive process, however, when done right the benefits for everyone involved can be tremendous.
Where does this innovation come from? Doblin owned by Deloitte is a company with a focus on innovation, found that after examining over 2,000 business innovations throughout history, most breakthroughs aren't always new products, startups, or rare discoveries. They observed that innovation can be categorized within a range of 10 distinct dimensions (as shown in the infographic) and applying a combination of these 10 types of innovation has resulted in well-known, long term businesses staying ahead of their competition.
What Does Innovation Look Like In Practice
Companies that have been around for years have leveraged each of these 10 types of innovation in the past as well as integrating new technologies to consistently create breakthroughs of new products and services.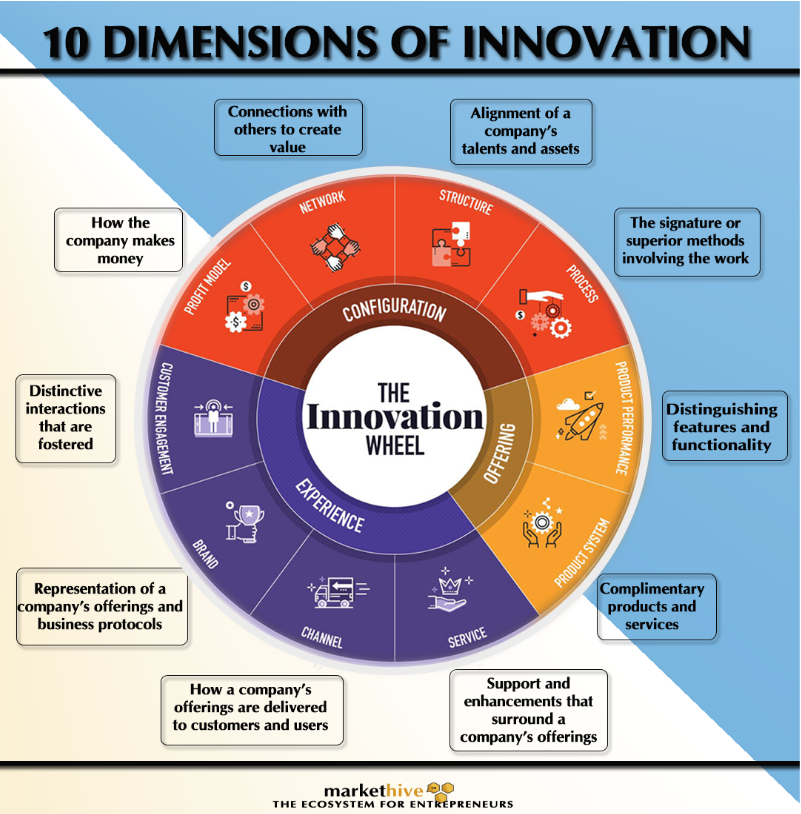 Image adapted from Visual Capitalist
Innovation Dimensions 1-4. "CONFIGURATION"
The first four types of innovation (according to Doblin) center around the configuration of the company, and all the work that happens "behind the scenes". Tesla's Elon Musk said back in 2016 that "the machine behind the machine" is more important than the product. The point here is that companies with strong innovation draw on the strength of their underlying innovation systems that integrate strategy, ecosystems, development, performance management, and more, making it into one seamless and mutually supportive whole.
Have you heard the parable about the blind people and the elephant? Each person can feel and describe a part of the animal, but none of them can get a sense of the whole, because elephants are big and so are innovation systems. They are complicated and multifaceted involving people and teams from multiple functions. Innovation systems can't be a one-hit-wonder. They need to be designed and consistently reworked to deliver the desired level of organic profitable growth.
An effective innovation system takes time and experience to build, also practice as well as learning from successes and failures is essential. A company needs to reassess and revalidate all the elements of its innovation system which is the "machine that makes the machine", to ensure that it is delivering maximum value. How a company along with its products and services are organized have a crucial downstream effect and enables innovations in other categories.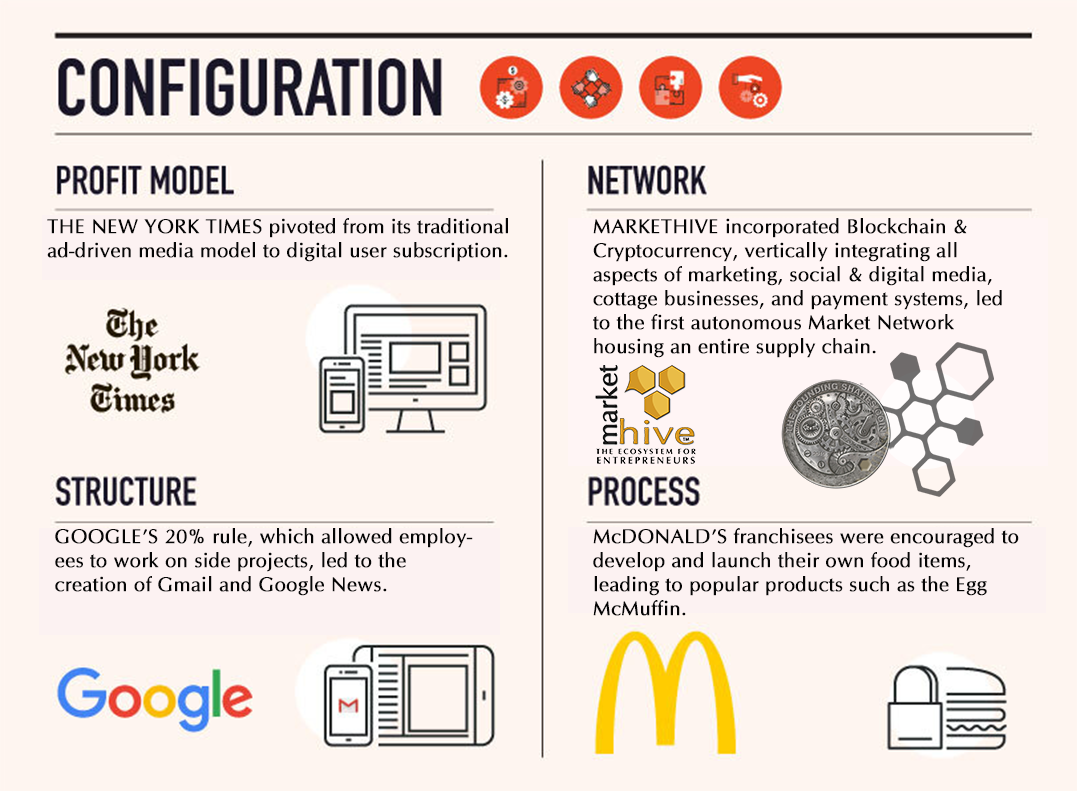 Image adapted from Visual Capitalist
Two of the most interesting examples in the infographic are Google and Markethive. Both companies made internal innovations that empowered both their people and users resulting in further advancements downstream.
In the case of Markethive, an inbound marketing company since 1996, embraced Blockchain technology 4 years ago addressing privacy issues for the user, cryptocurrency payment solutions, along with incorporating systems and all tools under the Markethive umbrella, required for the complete inbound marketing experience. Being the first Market Network of its caliber there is very little competition that provides users with an opportunity to earn an income within the platform along with their own private endeavors and cottage businesses.
Innovation Dimensions 5-6. "OFFERING"
People or users are likely to put an emphasis on a company's offering above all other innovation categories. The way a product performs is important and more important are the improvements to product performance which can be a difficult type of innovation to uphold. A company with a deeply ingrained culture towards innovation with a focus on continual advancements will have a distinct advantage over the competition.
This is where all dimensions of innovation come into play. Doblin recommends that all companies need to focus on combining multiple areas of innovation together. It creates a much more stable economic moat.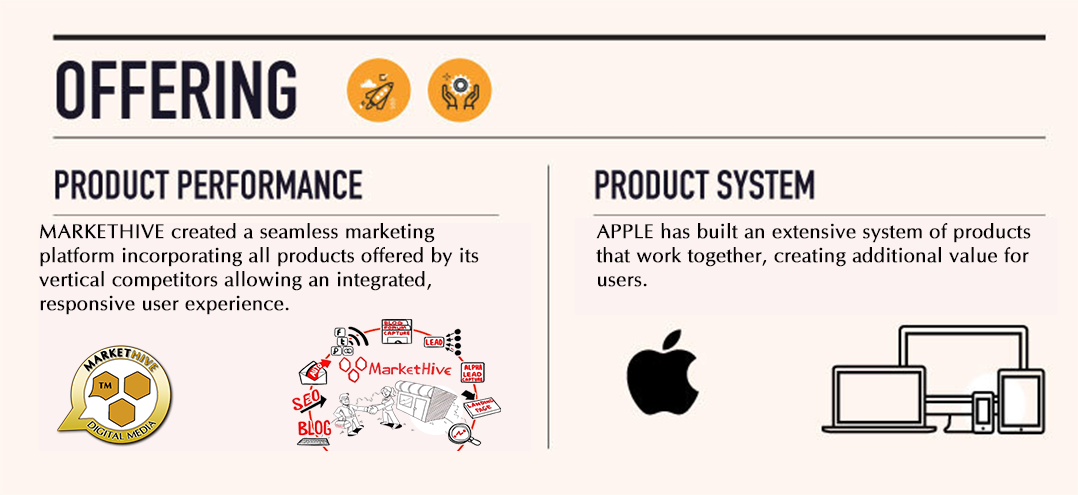 Image adapted from Visual Capitalist
According to Boston Consulting Group (BCG), Apple is on top of the leaderboard with a reputation for innovation, however, its company's strategy is underappreciated. Intrinsically, Apple has put a great deal of thought into its ecosystem of products, ensuring they work together flawlessly creating additional utility. It also makes it harder for consumers to switch away from Apple.
Markethive is also one-stop-shop creating ease of utility for newbie marketers and savvy entrepreneurs. It offers collaboration within the Markethive ecosystem as well as access to various platforms externally that serve a similar purpose. Historically, a leader in the field of inbound marketing, with its proprietary tools, has bundled individual products and services together along with integrating newer technologies to create a robust, scalable system, bringing more value to the user. No need to go anywhere else, it all comes to you.
Innovation Dimensions 7-10. "EXPERIENCE"
The experience innovations are the ones where the users or consumers are most involved. It puts the company in the limelight as innovations in experience all get trialed by the users. It stands to reason that intense care is needed when rolling out these ideas.
Service innovations enhance the utility, performance, and value of an offering, making the product or service easier to use. Customer engagement innovations are about understanding the aspirations of consumers and users and using those insights to develop meaningful connections between them and the company.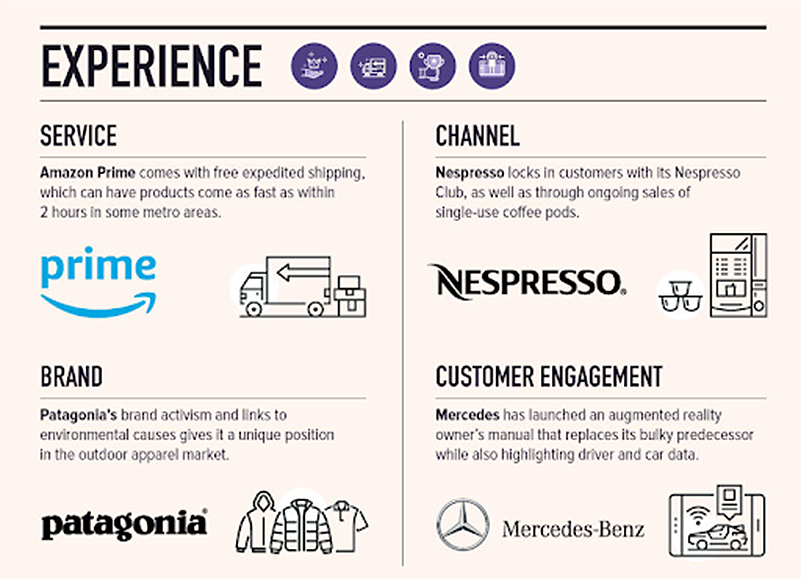 Image from Visual Capitalist
Brand innovations help to ensure that customers and users recognize, remember, and prefer your offerings to those of competitors or substitutes. Great ones infuse a "promise" that attracts users and conveys a distinct identity. Channel innovations encompass all the ways that you connect your company's offerings with your customers and users.
A Collaborative Platform And Ecosystem; A Serial Innovator
More than ever collaboration has become an important part of innovation. Digital technologies enable collaboration platforms that create an ecosystem by bringing a group of organizations to build a new capability, product, or service offering. Ecosystems are dynamic environments and contain lots of varied entities with multiple sources of influence and can offer users a powerful way to build new revenue streams.
Ecosystems trade in multiple currencies, not all of which are financial, because they exist to create value through collaboration. When an ecosystem wins, the participants and users win as well, always evolving, acquiring new members, and realizing new missions as and when they come to light.
Markethive has done that by utilizing the Blockchain and cryptocurrency collaborating with high profile coin exchanges, along with upcoming joint ventures to streamline and provide a lucrative platform for all involved. Markethive's platform is currently live in public Beta with the first of many unique initiatives being the Banner Impressions Exchange. A franchise for Markethive Entrepreneurs and a uniquely innovative, free-market way for all advertisers to gain exposure across many domains with substantial traffic.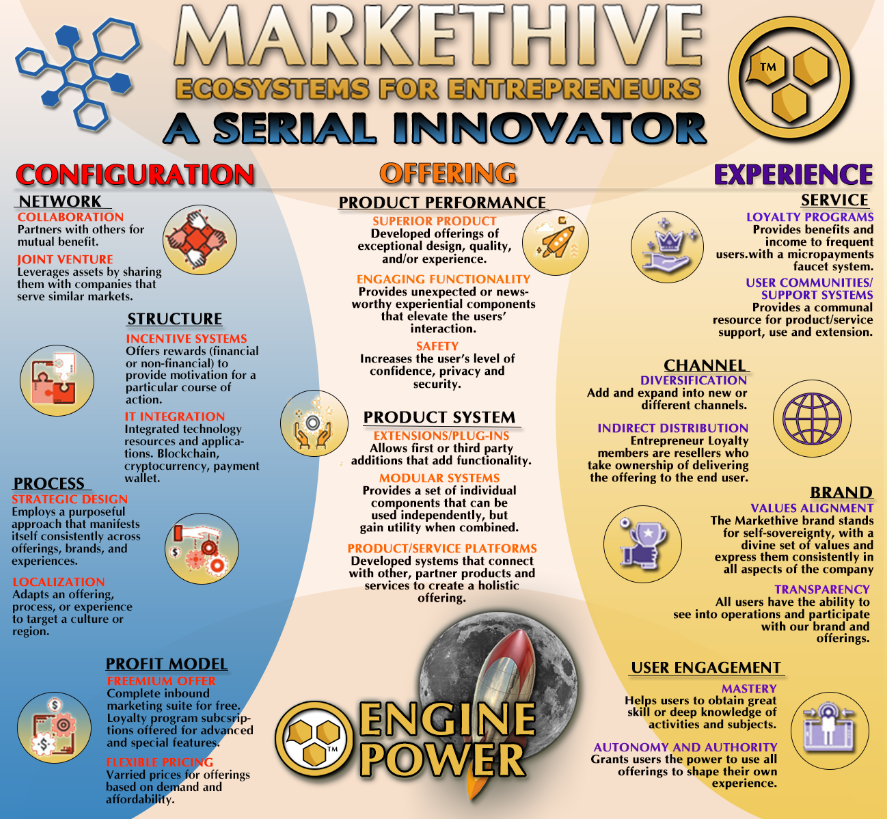 Entrepreneurial Collaboration Within The Markethive Ecosystem
Collaboration is an integral part of the Markethive culture when it comes to user engagement. The first Market Network with a collaborative social media interface offers all the marketing tools, digital media, live training, and tutorials allowing entrepreneurs, marketers, commercial artists, and the novice to aspire and succeed in a fluid, collaborative and nurturing environment.
Markethive saw a need and what is lacking in the existing stand-alone social and marketing platforms and created a blockchain-driven ecosystem with its own consumer coin. A decentralized platform in which all users' data is protected which means;
compromising users' data becomes impossible.

A meritocratic system negates being banned or suspended

Blogcasting and messaging cannot be tracked across the web
By storing your data, information, activities, and publications across a network of computers, known as data centers, the task of compromising your data becomes literally impossible.
Markethive's infrastructure also facilitates;
A free marketplace where all artists and entrepreneurs can showcase and distribute their products, monetize, and get paid without the fear of reducing or losing their revenue or Markethive account.

Protects the users' against losses as transactions are done within the Markethive Platform.

A complete turnkey financial system within Markethive which enhances economic velocity.

A free market media and content publishers with a reach well beyond existing social and market networks.

All users have the opportunity to increase their brand awareness and financial status within the Markethive Ecosystem while building and monetizing their own private businesses. Coupled with its data centers and plans to deploy a multitude of mining hives distributed globally that will create massive surplus electricity built on a total 100% green energy that supports the core distributed decentralized data-based systems using dWave or quantum computers which utilizes the advanced theoretical technology of multiple parallel universes.
That core of decentralized dWave database systems has a matrix/network of the blockchain around it. Monitoring, securing, and facilitating the massive database system. As it's built on a higher generation blockchain that makes it possible to handle large social groups.
Conclusion
This is all very Web 3.0 and we are just at the beginning of a monolithic venture of innovation. Markethive's culture is one of innovation, based on the power of Organic Intelligence (OI); other social and media cultures' are one of subordination and intrusive Artificial Intelligence (AI).
The online world where a large portion of the global population now exists is perpetually and rapidly advancing. People's attitudes are changing with a rebellious nuance as they wake up to the dictatorial and harvesting for profit and control of Web 2.0. Markethive with its divine ethos is on a powerful mission to change this narrative and with its finger on the pulse of innovation will surely make it happen.
The rise of the entrepreneur and the fall of destructive forces in our social platforms are here now.
The Markethive team is working around the clock on the wallet, KYC protocols, and exchange listings. We have some extremely exciting systems in the making so come to the weekly meetings on Sundays. The link to the meeting room can be found on the Markethive Calendar.


References: Visual Capitalist – DOBLIN
Deb Williams
A Crypto/Blockchain enthusiast and a strong advocate for technology, progress, and freedom of speech. I embrace "change" with a passion and my purpose in life is to help people understand, accept, and move forward with enthusiasm to achieve their goals.
Bruce Jacobs
Visits: 2956 Visits: 2