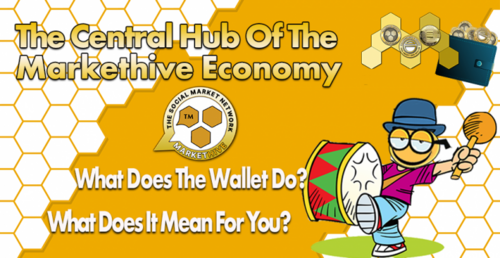 The Central Hub Of The Markethive Economy – The Wallet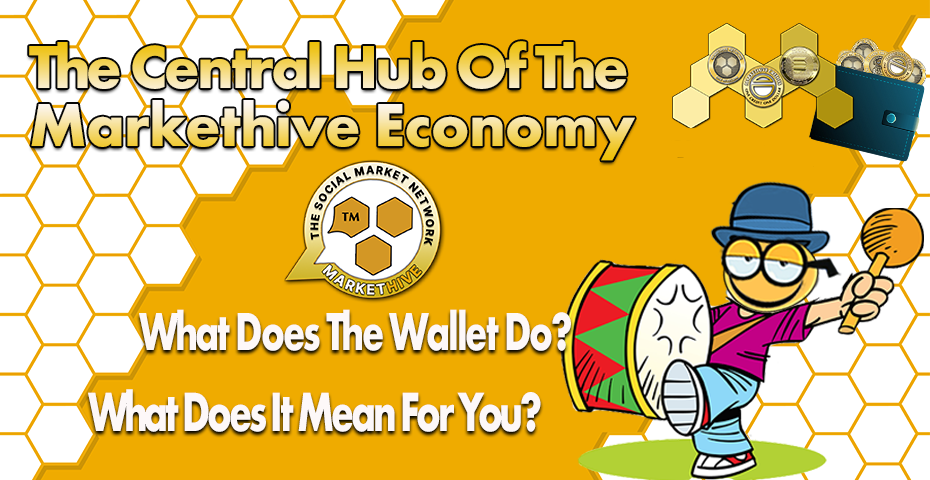 What Does The Wallet Do?
What Does It Mean For You?
The launch of the Markethive wallet is approaching, so it's time to start beating the proverbial drum. It is the start of an exciting time with the advent of many integrations to follow the release of the wallet that will bring Markethive into prominence as an unprecedented platform. The combination of inbound marketing, social media, digital broadcasting, video, conference rooms, e-commerce, gamification, etc.
Markethive is a blockchain-driven crypto economy, all-inclusive, with a distributed database system required for this decentralized, monolithic global project. We're almost there with the release of the wallet that will initiate entrepreneurial sovereignty and open the floodgates of this divine enterprise with its plethora of systems and services, including the new interface and dashboard.
We now have a complete working wallet with the Solana Network, and we also have a fully functional crypto merchant account. The Markethive wallet is being polished with the finishing touches, keeping mindful that it's not just a simple wallet but a comprehensive, dynamic engine centralized for you that powers your platform and business.
Markethive is fundamentally a sophisticated inbound marketing and storefront platform, integrated with a social network, and not just another social media platform you see popping up to counter the media tech giants we've come to know as oppressive, censoring you and using your personal data for their own gain.


Markethive Pay Transaction Example
Your Very Own Merchant Account
The Markethive platform is massive, and it lends itself to the cottage industry concept allowing members to monetize the various initiatives within Markethive. It also allows you as an entrepreneur and business owner to facilitate and promote every aspect of your business, including eCommerce payments, right from your business Storefront in Markethive.
In other words, you will have a personal Merchant Account that you can plug in to your WordPress or Storefront group through Markethive. You will be able to utilize your chosen wallet address for payments relating to your business, and it will keep track of everything for you. You will not have to rely on APIs and third parties that can shut you down at a whim because you don't go along with their agenda.
The Functionality Of The Wallet
The wallet is not just a wallet to send coins out from Markethive to an exchange. It will house the functioning and tracking of the ILPs, your transactions, subscriptions, statements, payments, and the Vault. The Vault is home for your Markethive Credits, likened to a stable coin.
You can fund your vault with Markethive Credits via various cryptocurrencies, Bitcoin, Ethereum, Litecoin, Hivecoin, Credit/debit cards, and a payment processor new to Markethive, wise.com. Due to the adversarial nature of PayPal, the processor will not be available. More updates will come as we finalize all the moving parts of this comprehensive mechanism.
With the tightening of crypto regulations by the unforgiving, anti-business sentiment of the US government, it is in everyone's best interest to stake Markethive Credits instead of Hivecoin. If we were to stake HVC, the regulations require Markethive to report monthly all individuals' staked earnings. This would be a tedious, expensive exercise and not one any of us as a community or individual would want.
As Markethive Credits are not classed as crypto, it sidesteps these regulations and allows us to accumulate Hivecoin passively. Utilizing the Vault by having an ongoing threshold balance of Markethive Credits is a form of staking. In other words, keeping any amount in the Vault above your monthly commitments (e.g., subscriptions) that are automatically debited from your vault generates interest.
The higher the threshold balance, the more interest you receive, and it also increases your Hive Ranking, which also increases your interest. You cannot trade or sell your Markethive Credits; they are for purchasing services within Markethive, so the vault can be considered a debit card.
Equally, it can be used as a bank account, except the interest received from banking your funds in the Vault would be considerably more than a regular bank account. With interest being paid to you in Hivecoin, it also has increased worth as the price of the coin rises.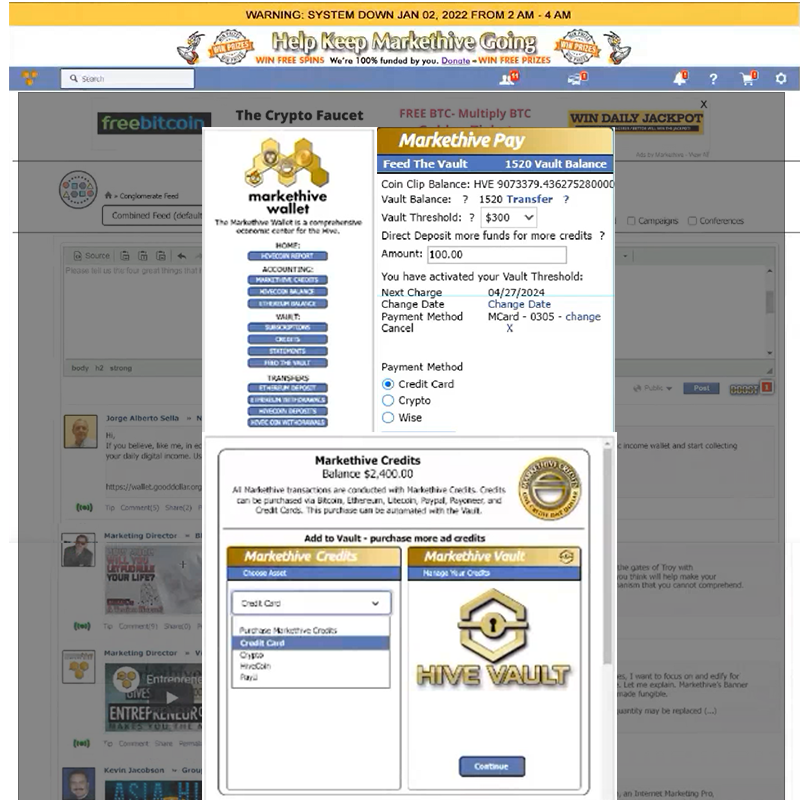 Markethive Wallet Example
Markethive's Coin-Only Exchange
Markethive is also in the process of setting up an offshore corporation to be able to facilitate a coin-only exchange wholly owned by Markethive, similar to Yobit.
Why is it important to have our own exchange system?
Markethive has a tremendous amount of activity with its coin through its members, so the way to document that for other exchanges to view the millions of transactions is to have our own exchange. This makes it conducive for other coin-to-fiat exchanges to have Markethive on board and allow trading (buy/sell), invoking pre-eminence and increased market value.
Markethive is not just building a non-purposeful meme coin like Doge or Shiba, nor are we creating a simple exchange. It's a comprehensive, dynamic platform that will serve humanity on every level imaginable, helping us through these difficult times and into the light where our personal sovereignty will rise in harmony and abundance in the collective.
Benefits Of A Reduced Total Coin Supply
Along with the integration to the Solano Blockchain, Markethive will drastically reduce the total supply of Hivecoin into the low millions (actual amount to be advised). This means the price potential for HVC, through supply and demand, will increase a hundredfold+ and benefit you as a Hivecoin holder.
Think of Bitcoin's total Market supply of only 21 million coins as opposed to the other altcoins with a supply into the trillions. (less supply, more demand, market price increases.)
It will also make Hivecoin kinetic and benefit you when building your business within Markethive with all the tools and services you and others need all transacted with Hivecoin. The implementation of a gamified system will draw people in, which in turn broadens your sphere of influence as you use the system.
As this activity takes place, it expands the usage, awareness, and adoption of Markethive services, which then drives up the demand for the coin. It creates an alternative economy, a complete ecosystem for entrepreneurs of every caliber making a living online. It makes Hivecoin legitimate as it has purpose and utility, unlike so many other tokens out there that have very little to no purpose and a total supply into the billions and trillions.

Entrepreneur One Upgrades First Access. Automatic KYC
The Entrepreneur One members will be the first to receive access to the wallet. KYC (Know Your Customer) will also be implemented for all members. Notably, if you register a credit card within Markethive, you will automatically be KYC level two. Uploading your passport or driver's license and utility bill will be classed as KYC level one.
What this means for you when building your business is that the people you are dealing with in Markethive are verified and legitimate. They are who they say they are, and your level of engagement will be much better and more genuine than on any other social network.
It's important to understand that the Entrepreneur One Upgrade will no longer be available upon release of the wallet. Existing, current E1 members will continue to enjoy the benefits of the upgrade, including receiving a 1/10th ILP for every year their subscription is active for up to ten years. The benefits are explained further in this article.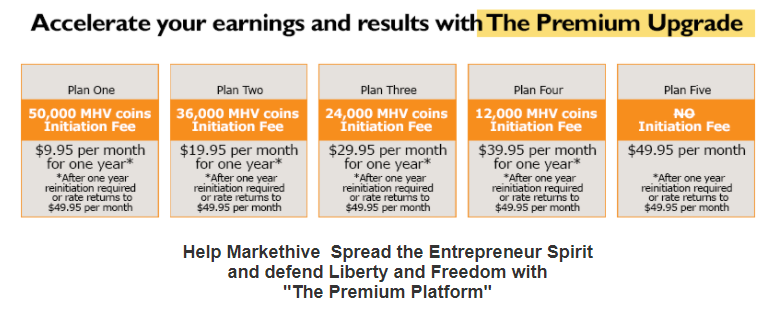 The Premium Upgrade will also launch once the wallet is released, with many benefits for Markethive members. It increases your earning potential and allows you to monetize the initiatives Markethive has implemented. Click here to preview the features of the Premium Upgrade.
There's still time to upgrade to Entrepreneur One and be privy to the complete Markethive system that can be described as a cottage industry with money machines that champions everything else out there. You will be one of Markethive's early adopters and have a rare opportunity to cement your future of self-sovereignty.
How can you forge your future as an Entrepreneur and get your share of ILPs with the Entrepreneur One Loyalty Program?
By clicking on the Membership Upgrade tab on the main menu of the home page and following the prompts.
The precarious state the world is in provides us with the opportunity to take advantage of emerging technology to "unhook" from the global majority and its nefarious, corrupt systems.
Markethive truly wants everyone to succeed and have a sustainable business that's making you a sustained income from anywhere in the world. That's the Markethive promise, the vision, and what we're building.
Be with us at the Sunday meetings at 10 am Mountain time to learn more and stay updated with the latest Markethive news. You'll find the link to the meeting room in the Markethive calendar.
God Bless you all with Light and Love.



Also published @ BeforeIt'sNews.com https://beforeitsnews.com/promotional/2022/04/the-central-hub-of-the-markethive-economy-the-wallet-3033.html
Bruce Jacobs
Visits: 1328 Visits: 3