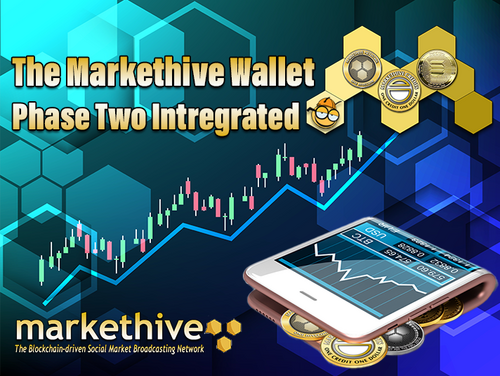 The Markethive Wallet Phase Two Complete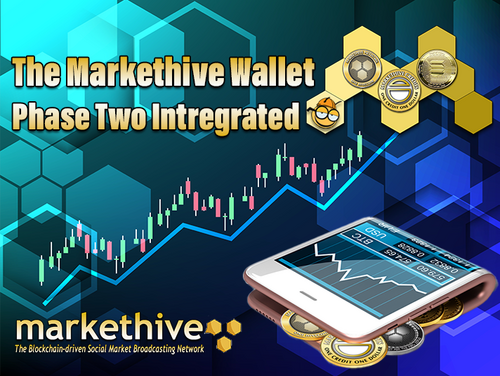 Phase Two of the Markethive internal wallet is complete, a considerable milestone for the company and the Markethive community. The impending release of the wallet is a pivot point for Markethive to secure its future as a completely decentralized social media broadcasting and marketing platform the world so desperately needs for these significant times: The End Times.
About The Wallet – Phase Two
The Markethive wallet is not just an ordinary wallet: It's a transactional interface that services and keeps track of all your accounting and transactions, including your loans to Markethive and interest paid by Markethive to you via the ILP.
With Phase Two now in operation, you can access and set up your personal requirements and view your status in The Vault, Hive Rank, Staking, KYC Application, ILP Report, payments, and Markethive Credit threshold and balance. Plus, you can now transfer Markethive Credits to other members within Markethive.
Note that full access to all of the Markethive systems requires complete KYC documentation and an Entrepreneur One membership. The Markethive platform, with its general newsfeed, is free to use; however, the marketing systems and aspects thereof within Markethive will be limited, including Hivecoin transactional activity and micropayments of MHV.
Once the Markethive wallet is fully operational and launched, the Premium Upgrade will be introduced, which offers additional features and benefits to achieve a significant presence online for your marketing efforts and business growth, especially with the upcoming unique dashboard interface. It will be beyond anything else out there today.
KYC Application (Know Your Customer)
KYC Application is now functional in your wallet. It is required for you to have access to the Hivecoin Wallet and use inbound marketing tools. You will need to be KYC verified to receive Markethive Tokens (MHV) via registration, tips, and bonuses and to activate the first-level micropayment earnings.
The reason for this is for the community's benefit by knowing who they are engaging with and not for governmental regulations. It assures Markethive members that you are a real person, dedicated to honest and transparent relationships in business and socially. The purpose is to have an active, very dynamic, and secure "hive of people," unlike Twitter, which has been plagued with bots. Also note: Once KYC is approved, the documents uploaded to attain approval are all deleted. We do not keep these documents.
Once you're KYC verified, the documents you upload are transferred and kept in your wallet, not on the Markethive system. This ensures third parties or government authorities do not gather your information. There will be a small charge for the KYC process for the purpose of credit card information and verification.
The Vault, Markethive Credits, And Staking
The vault is now operational in your wallet. This means you can buy Markethive Credits to set up or manually fund your subscriptions, transfer to other members, and activate your threshold and auto fund. Once you purchase Markethive Credits, they can be used to purchase services from Markethive and trade goods and services with other members.
Markethive Credits are not cryptocurrency coins and cannot be used to purchase other cryptos from Markethive, including Hivecoin. MH Credits also cannot be transferred to a crypto wallet or exchange. Markethive Credits facilitate commerce for any business and can be built into a storefront for your marketing co-op campaigns.
The vault funding threshold is the mechanism you use to maintain a viable Markethive Credit balance. Keeping a balance in the vault is like a bank account; you can accumulate interest on that balance. The higher the ratio, the more interest you earn, which is paid in credits.
The terminology used for this is called Staking. Staking your MH Credits balance allows you to earn additional credits based on your number of credits and your level of activities within Markethive. These activities are reflected in your Hive Rank, also located in your Markethive wallet. Note that joining a Markethive loyalty program and even just logging in every day adds to your staking interest.
ILP Reports
Thomas has updated the tracking of the ILPs acquired through Entrepreneur One by adding up all monies spent between January 1st, 2019 to December 1st, 2021. All ILPs acquired through the Entrepreneur One Program are now reflecting the true result of all monies spent.
In December 2022, all E1s that have been active with their subscriptions for 12 consecutive months will receive the promised bonus of 0.5 ILP. Also, a little birdie told me that something big is planned for members who upgrade to E1 upon the announcement of the 30-day cut-off. Stay tuned.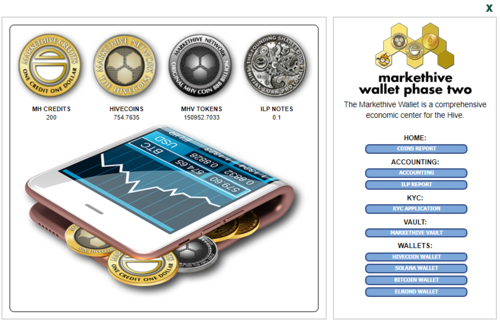 Now that Phase Two is operational check it out and navigate around the wallet. It's intuitive, comprehensively explained, and very easy to manage. It's important to know that the mechanisms behind all the applications in the wallet are fully functional on Markethive's development site, including a Solana wallet assets interface.
Our Markethive wallet also displays the wallets of four crypto coins, Hivecoin, Solana, Bitcoin, and Elrond. The coin price comparison reports powered by Coingecko are now active in the wallet (except Hivecoin), so we are close to Phase Three, the final stage before launching. The dynamic free market value will be operative when Hivecoin is listed on coin exchanges.
When we announce that the full wallet release will be in 30 days, we will also have built an Entrepreneur One exchange for current active owners so that they can sell their E1s and others can buy them in an auction platform within Markethive. So to summarize, we are now preparing the four wallets (Hivecoin, Bitcoin, Solana, and Elrond) to be active with 2FA verification and required to send any of the coins from your wallet and the E1 exchange. When these are ready with 2FA in place, then the 30-day final launch of the wallet will be announced.
Once the 30-day period is over, anyone desiring an E1 subscription will only be able to acquire one through other E1 associates via the E1 Exchange. It is fundamentally an open market, and the seller will determine the acquisition price of the E1 subscription. Once purchased, it is required and in your interest to continue with the monthly payments. E1 upgrades will no longer be available through Markethive, the company.
The E1 Advantage. The Incentivized Loan Program (ILP)
Apart from all the other benefits you receive as an E1 associate, you are essentially a shareholder as you acquire 1/10th of an ILP per year, providing you are current with your monthly subscription of US$100/month.
The ILPs are essentially a loan to Markethive for a 20-year promissory note which you can recoup with a principal balloon payment at the end of 20 years. You also have the option to roll it over or reactivate it. This window of opportunity is precious as the ILP represents 20% of the net revenue of Markethive, so let's crunch some numbers.
The projection of a member base of 500 million will yield a monthly income of $5.6 billion. 20% equals $1.2 billion allocated for the ILPs, divided by the maximum of 1000 ILPs or shares, and returns a $1.2 million payment per ILP. 1/10th of that ILP, earned via the E1 upgrade per year, produces a monthly income of $120,000.
Markethive is a grassroots project owned by the community, not wealthy venture capitalists. When committing to an Entrepreneur One membership or purchasing an ILP outright, you are effectively a virtual owner of Markethive; it's your company where you receive valuable tools and considerable returns from the ILP.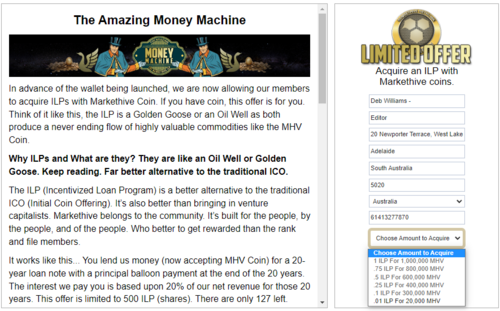 The great news is that you can now purchase ILPs with the Markethive Token (MHV) in anticipation of the wallet's launch. Click on the rocket icon in the tray at the top of the home page and follow the prompts. If you have MHVs, now is an excellent time to invest in the next-generation social market network, as Markethive is now coming into its own.
Once the wallet is complete, the next important step is to build a Markethive coin exchange. Unlike various exchanges currently operating, the Markethive exchange will have a community, enhancing the ability to become successful and profitable.
Crypto projects and exchanges that have utilized their crypto coin, along with robust communities, tend to weather the storm, the bear markets, and the like. We see many prominent exchanges failing, particularly centralized ones, due to being affiliated with nefarious actors and agendas.
Markethive's mission is complete decentralization and distribution worldwide and the perfect armor to circumvent the chaos of these dark times. Markethive's vision is to provide a sanctuary for the people and those hurt by the events, the evil and tyrannical pressure by the elites of big tech, NGOs, and governments.
Markethive is building a system outside of the traditional elite economy. We are building an ecosystem that works regardless of what's happening worldwide. Although Markethive will accept fiat payments with credit cards, the whole nature of how our system will work is based on Hivecoin and Markethive credits. As Markethive grows, it allows us to develop an even more powerful ecosystem.
Be sure to attend the meetings on Sundays at 10 am Mountain Time. (MST). All updates and orchestrations are discussed at the Markethive meetings, with the latest news and developments of Markethive as they happen. To access the meeting room, go to the Calendar and click on the link provided.
I will keep you updated with further articles on Markethive's progress in its monumental project to deliver financial sovereignty, freedom, and liberty. The world needs what we are building.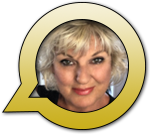 Editor and Chief Markethive:
Deb Williams
. (Australia) I thrive on progress and champion freedom of speech. I embrace "Change" with a passion, and my purpose in life is to enlighten people to accept and move forward with enthusiasm. Find me at my
Markethive Profile Page
| My
Twitter Account
| and my
LinkedIn Profile.
Bruce Jacobs
Visits: 982 Visits: 2