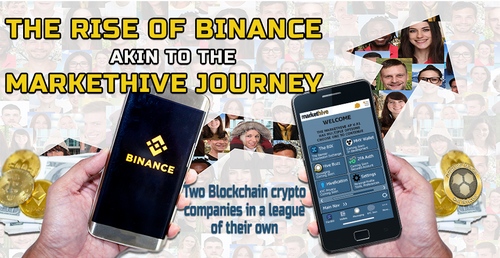 THE RISE OF BINANCE AKIN TO THE MARKETHIVE JOURNEY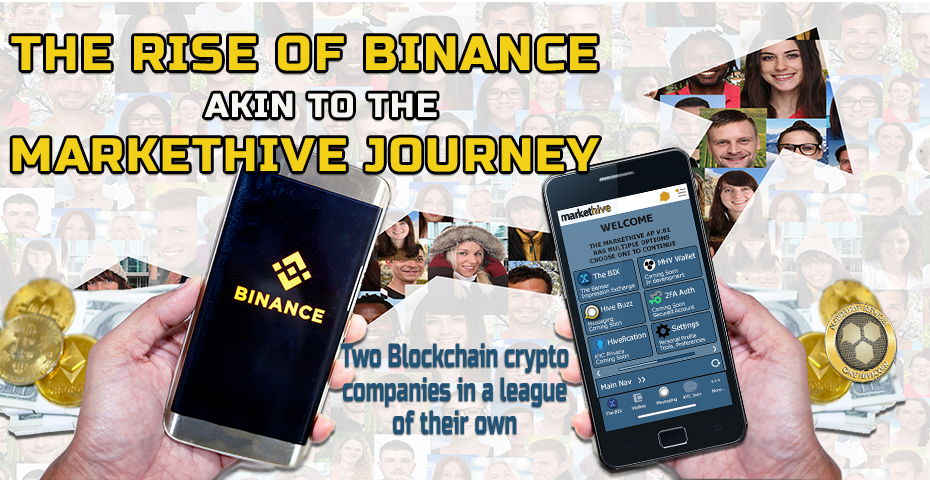 TWO BLOCKCHAIN CRYPTO COMPANIES IN A LEAGUE OF THEIR OWN
Binance, with its explosive rise to power since 2017, sits at number one on the list of top crypto exchanges, head and shoulders above the rest. In an enterprise that has had so many failures, with exchanges being hacked and startups that expanded so quickly, resulting in massive layoffs, Binance survived and rose above all the growing pains, mayhem, and fraud the nascent industry was experiencing.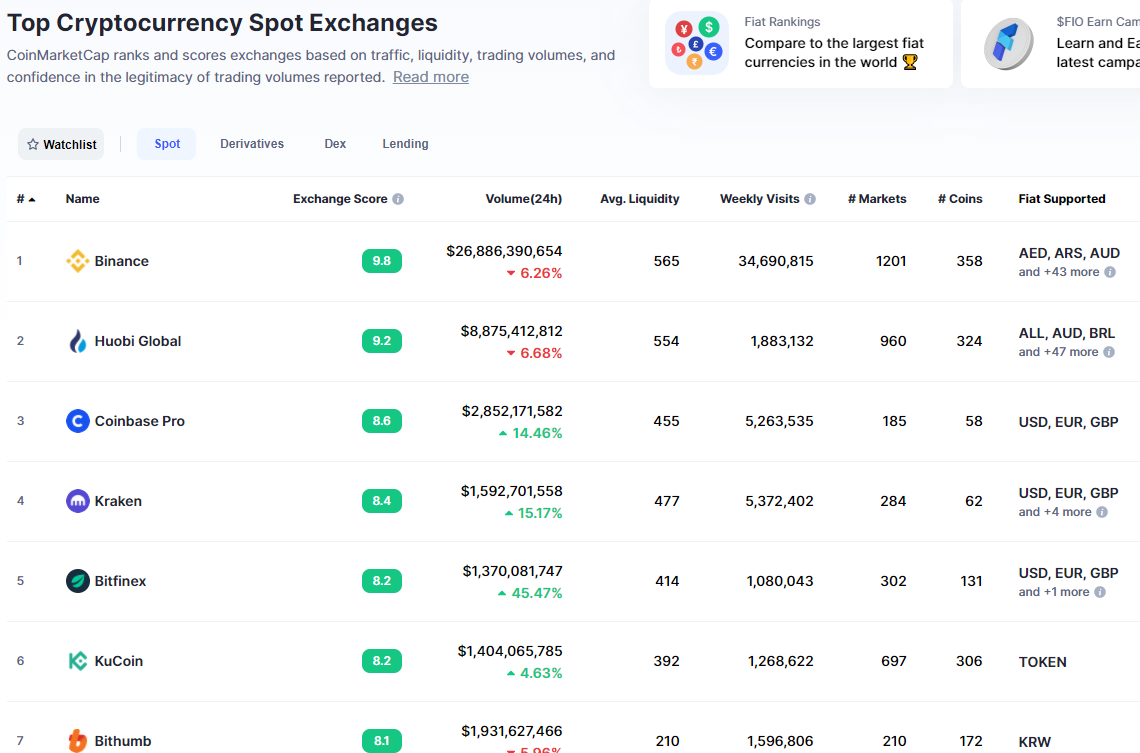 What makes this crypto exchange so different that it not only survived but thrived in the fluid and dynamic crypto market?
CEO of Binance, Changpeng Zhao, has a background in developing trading software for brokers and exchanges on Wall St. In 2013, he started working in Blockchain technology for the wallet app blockchain.io and later co-founded OKCoin, a Chinese exchange.
Zhao's past experiences led him to understand what worked and what didn't work in the cryptocurrency world. Zhao gained profound knowledge of the market and knew what crypto customers needed and enabled him to deliver what other exchanges were not. He provided an exchange that put the customer and their investments above everything else.
Binance has had its fair share of fraudulent activity and setbacks that saw the company decamp from China to Tokyo, then to Malta, as governments were hot on the heels of crypto exchanges and the industry in general. They painstakingly moved their servers from the Chinese-owned Alibaba conglomerate and eventually built their own blockchain.
Binance rose to the occasion through all of these obstacles, ensuring no customer was out of pocket. The company's commitment to protecting users' investments was what set them apart from other exchanges. It values its clients putting them ahead of everything else, regardless of what happens, and this has resulted in an exceptionally loyal following from members of the cryptocurrency community.
The name Binance was derived from the words "binary" and "finance" to emphasize that there are two types of money in the world now. Fiat and Cryptocurrency. The world's largest crypto exchange is more of an underground rebellion than a formal company, a rebuttal of the traditional financial system.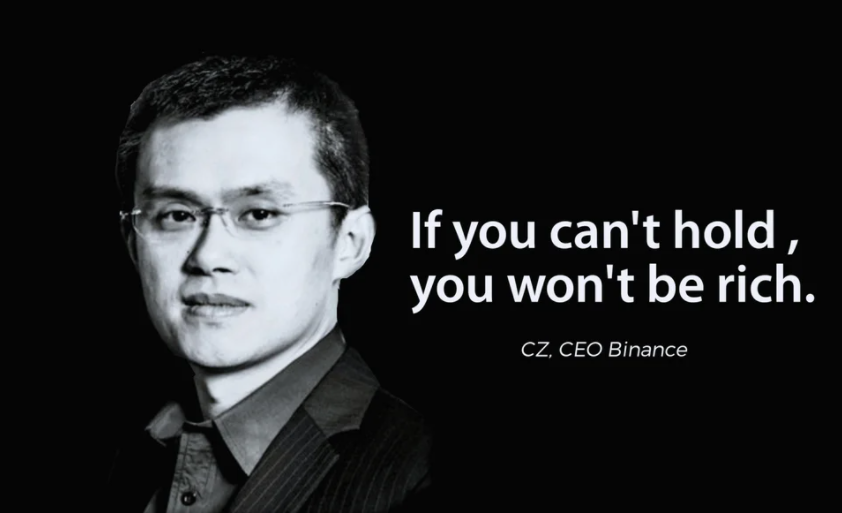 In an interview, Zhao stated,
'We want to make a difference to the world and use crypto to do the good things. It's also about spreading crypto, or the freedom of money."
Zhao has also started numerous projects targeting Africa, realizing the need and vast potential of crypto adoption. Like Markethive and Cardano, Binance wants to bring financial freedom and sovereignty to the bottom billion with minimal means.
Binance started out as a crypto exchange in 2017 with a difference. They created a coin (BNB) to be used as payment for exchange fees within their exchange at a discount. Other exchanges could only accept Bitcoin as payment for exchange fees as they had no coin. This was a significant catalyst in growing the community from 122,000 members in 2017 when they launched their coin to 15 million strong today.
BNB went from $0.10cents per coin when first released in 2017 to $568.26 today, April 28, 2021. That is exceptional growth and proves cryptocurrency with genuine utility and purpose has a place in today's financial ecosystem.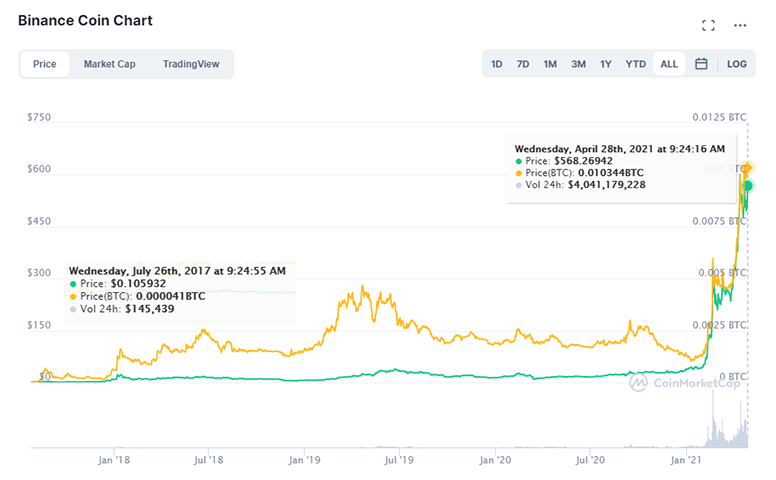 Binance is now more than just an exchange; it is an ecosystem with many innovative products and consistently adds technologies diversifying its services. This includes a decentralized exchange (DEX) hosted by thousands of computers worldwide, rendering it a censorship-resistant entity open to the global community and beyond the reach of any government.
The transparent and humanitarian approach, along with its stringent KYC/AML protocol, has made Binance a favorite among the crypto community with its sights set on the essential neo banking component of Web3, finally giving people true freedom over their own money.
The Binance ecosystem has ticked all the boxes by being proactive and nurturing a dynamic community, building the next generation advanced exchange, facilitating their own coin (BNB) to 3rd parties establishing adoption and utility.



Similarities Of Markethive And Binance
The similarities in many aspects between Binance and Markethive are significant. The Name Markethive is the culmination of the two words, "market" and "hive." Market is the representation of inbound marketing, product diversity, ecommerce, and Hive represents an active social network of entrepreneurs and collaboration.
It is the first social market broadcasting network built on blockchain technology, with a fungible coin (Hivecoin) that the Markethive community and 3rd parties will utilize. This makes it a complete ecosystem in the social media and marketing niches. Markethive's mission is to deliver a decentralized and autonomous environment to the masses, free from the oppressive oligopoly that is rife in our online world.
Markethive's proactive approach in building and relocating to its own servers to counter the agenda-driven withdrawal of hosting services from the major cloud service providers that other platforms fell victim to is just one of the many facets that will ensure Markethive's solid and sustainable future.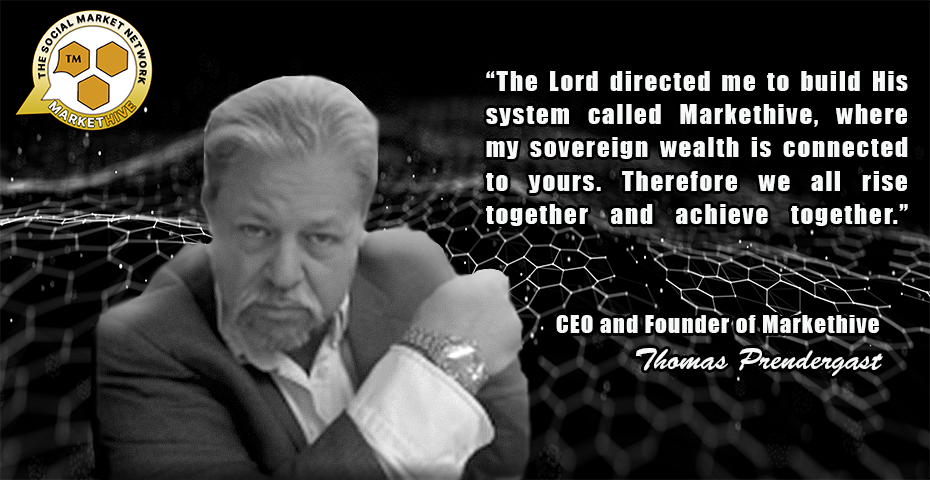 Financial sovereignty and the ability to earn an income, particularly in emerging countries like Africa, is another objective Markethive holds very dear. Dubbed as the Ecosystem For Entrepreneurs, CEO, and Founder of Markethive, Thomas Prendergast lives and works only to lift people up and give them a sanctuary where they can aspire and retire, giving purpose to their lives and livelihoods, realizing their potential.
Thomas Prendergast, a life-long entrepreneur succeeded in creating the first automated marketing system in 1994; an eminent achievement. It included a self-replicated website, self-replicated PDF, the first read-write to a server database, the first autoresponder email system, the first remote broadcasting system, and all incorporated into the first Automated Marketing system known a Veretekk.
Tom's passion for helping others has only increased with the emerging technologies enabling him to deliver a system far beyond what is available today. The Markethive concept was born five years ago and has evolved into a monolithic blockchain and cryptocurrency project much needed in the current landscape of social media and marketing and destined for success.

Thomas Prendergast (as quoted in this article) illustrates why the demand for a blockchain system's coin is driven by an ecosystem using Binance as an example,
"The Binance community was 122,000 members strong in 2017 when they launched their coin. Our community is double that as we approach launching our coin. Today 4 years later, the community has grown to 15 million. We can expect similar growth. The Binance coin went from 37 satoshis (.10 cents) per coin upon release in 2017 to 10,296 satoshis ($518.83) per coin today as of this writing. Imagine if Binance had developed and delivered ILPs as Markethive has done. We can expect similar results with Markethive when we launch our coin."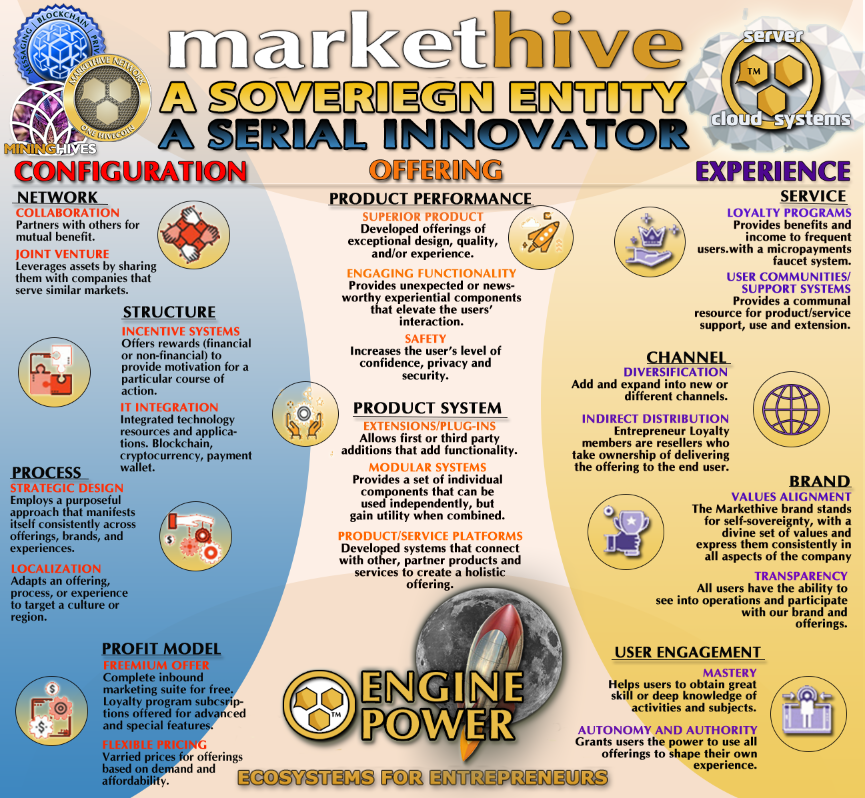 Greater Coin Value Determined
The Markethive Ecosystem will support coin demand and resist traditional pump and dump scenarios typical for any new coin release to the exchanges. The upgrade advertising services like the Banner Impressions Exchange (BIX), Markethive's Press Release System, Broadcasting system, the Boost, and Video advertising add infinity, as the demand for these state-of-the-art marketing services will only be fundable via the Markethive Hivecoin. The classic supply and demand tradition is the force behind coins rising in value.
Markethive will always be ahead of the curve, introducing new products, systems, and more innovative ways to facilitate operations for users within the social media and marketing environment, including the potential for real financial wealth and abundance on every level for its community.
The latest initiative is the migration from Ethereum to the Cardano blockchain system with its superior technology offering more incredible transaction speed, drastically reduced fees, and exceptional support in co-developing the Markethive wallet. The Markethive blockchain will fork off Cardano's main chain giving it sovereignty, total decentralization, and the ability to store massive amounts of data, as explained in this article.
The other great thing is the new look Markethive Coin, renamed Hivecoin (HIVE), and the decision to burn a significant amount of the original MHV will reduce the total to 8 million coins. This will not affect any members' coin holdings in their Coin Clips. What it will do is support greater coin value after our coin is released to the exchanges.
The Markethive vision is built for the people, by the people, and is of the people as they always come first in the company's eyes. Forget the tech giants of old; the blockchain and cryptocurrency success stories, like Binance, Cardano, and the upcoming next generation of the social market network, Markethive, put crypto businesses in a league of their own. Furthermore, all three companies are synergistic in their mission and vision; all are flawlessly transparent and go beyond the threshold of a typical company.



Written by Deb Williams
Chief Editor and writer for Markethive.com, the social, market, broadcasting network. An avid supporter of blockchain technology and cryptocurrency. I thrive on progress and champion freedom of speech and sovereignty. I embrace "Change" with a passion, and my purpose in life is to enlighten people en masse, accept and move forward with enthusiasm.
Bruce Jacobs
Visits: 3120 Visits: 1