Ukrainian Mariupol fallen
The Ukrainian town Mariupol at Azov sea had fallen, The city of Mariupol is under the control of the armed forces of Russia, the Donetsk People's Republic and the Luhansk People's Republic, announced Russian Defense Minister Sergei Shoigu. The attack on the azovstal steel works, located in the city and hiding in them the remaining Ukrainian defenders of the city, Russian President Vladimir Putin canceled, wrote the agency Tass.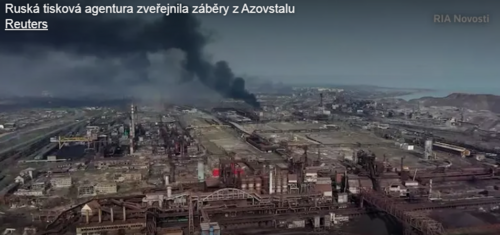 "Today the whole of Mariupol is under the control of the Russian army, the people's militia of the Donetsk People's Republic. The territory of the azovstal plant with the remnants of nationalists and foreign mercenaries located there is safely blocked, " minister Shoigu said.
More than two thousand militants were blocked in the azovstal steelworks. According to Shoigu, at the time of the encirclement of Mariupol, the number of foreign troops fighting on the side of Ukraine was about 8100 people.
"As for those who did not flee from the azovstal plant, they are blocked there thoroughly and around the perimeter. We need about three to four days to complete this work, " Shoigu said.
According to the minister of defense, despite the resistance of militants in Mariupol, more than 142 thousand residents of the city were evacuated, and all hostages in the port were released.
These hot news are from Czech websites.
Thank you for reading
Margaret
Bruce Jacobs
Visits: 2118 Visits: 3